30+ DIY Table Ideas to Beautify your Home
Tables are one of the many essentials of a house. They are used for a number of reasons and they are quite versatile also. You can use them for many purposes and keep them anywhere. Moreover, you can either have a simple table or a multifunctional one that could be used for storage also. The ideas and choices are endless and, in case you want to create something unique, you can do it yourself also, hence the DIY table ideas.
Here we have discussed some cool ideas that you can use to upgrade the look of your tables and use them to complement your entire room, or sitting area.
DIY WIRE SPOOL & METAL TUB COFFEE TABLE
This idea is no less than genius. The coffee table is made with a spool of wood that is arranged on a metal tub. You can reuse your old table's upper wood portion and get a metal tub to arrange it on. The idea works great as an outside sitting area. To know more about creating it, click below.
Ana-White Narrow farmhouse table…
This narrow table works great for limited space and you can use it either as your work table or a dressing table also. It is a simple and easy to make design and with a few wood pallets, or plywood, you can make it in an afternoon. Paint it white or in any other color. For details, click the link below.
DIY FARMHOUSE TABLE & BENCH
This farmhouse style table is paired with a bench and chairs. The look is simple and it is a total DIY project that you can make at home. To make it more functional, you can make it in a big size and add more benches and chairs. For other design details, click the following link.
DIY FARMHOUSE TABLE WITH EXTENSIONS
The design is expandable and you can customize it according to your needs. The table has rustic yet clean and polished look and you can pair some chairs and benches with it. Talking about color, you can stain it with any color other than brown, for complete design plan, click below.
DIY FARMHOUSE TABLE
Originally built to be used in a farmhouse, the table has completely countryside type of look. The design is clean and easy to make. All you will need is some wood pallets and intermediate woodwork skills. Once it is complete, you can use it as a dining table. Find all the details below.
Fancy X Farmhouse Table
Now this table has quite a fancy look. The table top is simple but the legs are exquisitely designed in an X design. The design is made by cutting the table legs in X design and glueing them together in a unified design. To know how to make it completely, click below.
Rustic Farmhouse Table DIY
The table is somewhat like the previous fancy X design but it is less polished. The table retains its rustic look as it is stained with natural wood color, without the sheen of course. You will need wood pallets and blocks and some commercial level tools. For complete material and design details, follow below.
Traditional Round Farmhouse Table
Now this is one unique and intricate design. Though the table is round in structure but the table top is assembled by cutting the wood into various sizes and gluing them together. But, the result is worth all the hard work and you will not regret it. To learn more, click below.
How to Build a DIY Farmhouse Dining Table
This DIY farmhouse dining table is totally revamped and made into a brand new table. The table top is kept the way it is while the lower part, the legs of the table is replaced with a more decorative type. It is painted in white while you can paint it in nay color you like. For complete details, click below.
DIY ROUND TABLE – AS SEEN ON HGTV OPEN CONCEPT
This round table has been made from square table. It is a complete DIY table revamp project as the old table has been cut and rebuilt into a new round table. The previous table was polished, marked and cut into a round table while its legs are also remodelled. For complete design plans, click below.
Farmhouse Style Round Pedestal Table
This French farmhouse style pedestal table has everything. It is unique, affordable and adds a special character to your house. The table is built with simple lumber while to achieve the reclaimed wood look, faux finishing with some stain is used. For complete design plan and photos, click the link below.
Round Trestle Dining Table
This round trestle dining table is phenomenal for your dining area. It is easy to make and you can adjust the size according. For this you will need untreated kiln dried lumber that you will cut and glue together. Once dried, measure the round circle and cut it. To download the complete plan, follow below.
DIY LIVE EDGE TABLE WITH STEEL BASE
This DIY live edge table is perfect if you want to make something without completely getting rid of its natural look. The table has steel base that is designed on order and the wooden table top has some natural nooks and cracks, all that makes it charming and natural. To know more, click below.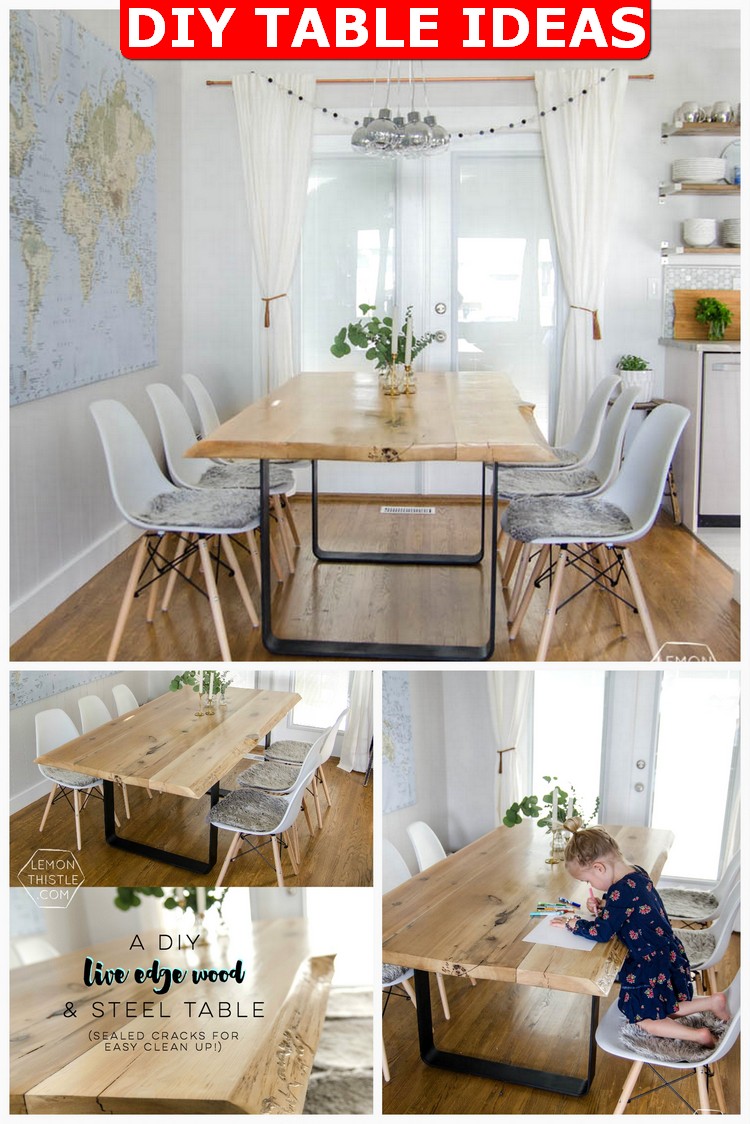 DIY FARMHOUSE DINING TABLE
This DIY farmhouse table uses off-the-shelf lumber and pre made table legs, that you can make yourself if you want. The wood top is stained with card walnut and red mahogany and is finished with a semi-gloss sheen. For complete plan with video, click below and learn how to make it.
Chunky Farmhouse Coffee Table
This chunky farmhouse coffee table is sturdy, rustic and extremely functional. The table is made with wooden logs that are glued together and dried. The top is colored with a natural look while the unique X design is made at the sides of the table legs, which are left in natural, stained state. For more details, click below.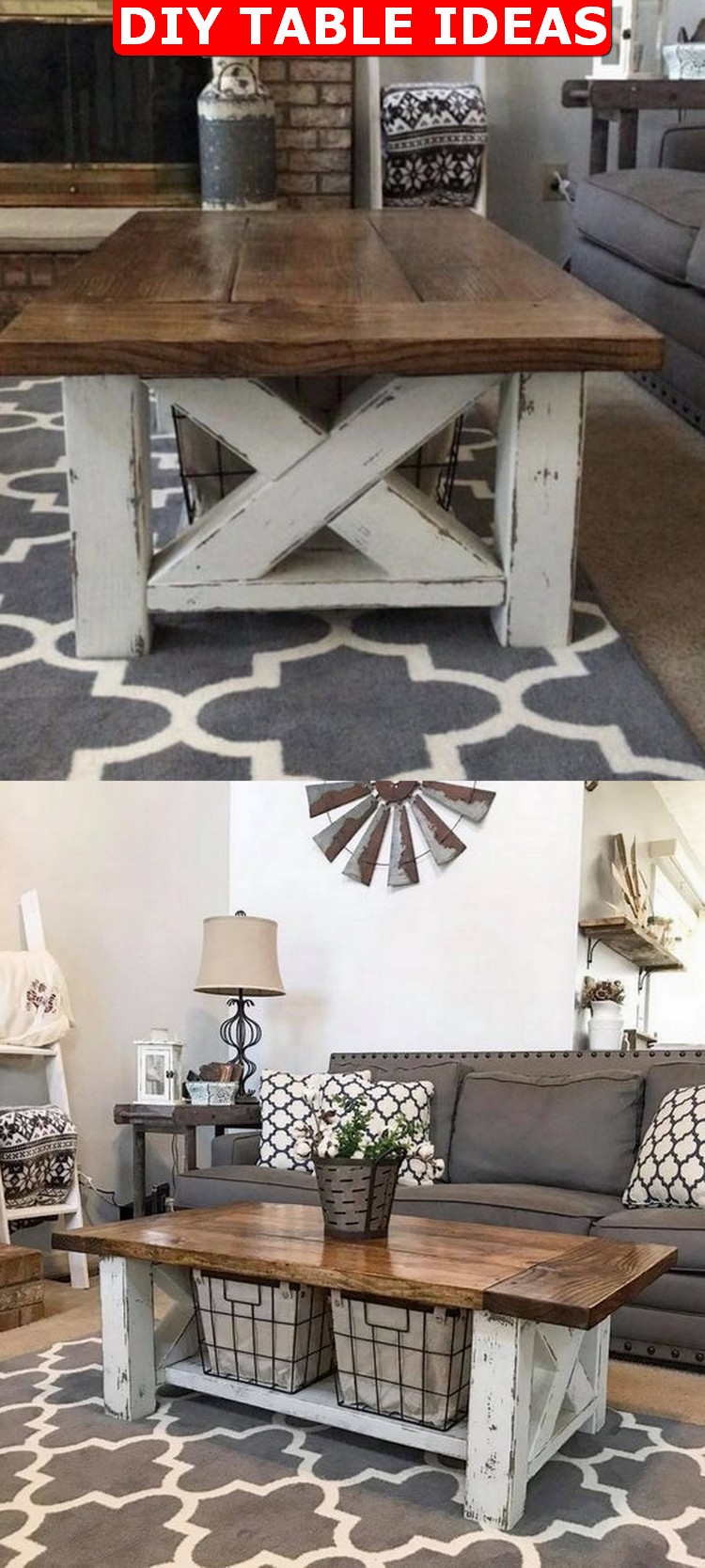 Round X Base Pedestal Dining Table
This round table is not only unique due to its X shaped pedestal but also due to its lovely design. To make the table, you will need wood of your choice and following the design plans, you will cut it in several shapes and sizes. After cutting, glue them together with wood glue and add the stained finish. For complete plan, click below.
Building a Kids Table
This kids table is extremely easy to make and even if you have a beginner to intermediate woodwork skills. All you need to do is to gather some lumber and cut it into your desired shape and design. This particular table is left with its natural color but you can paint yours. For complete design details, click the link below.
DIY Cutting Table
This cutting table is a hybrid. It is made by joining the cutting table with one half of a drawer. With the addition of drawers you can store all your spools, needles and extra cloth in a single place. To know how to make one, click the link below and learn.
FREE FARMHOUSE DINING TABLE PLANS
hairpin leg coffee table tutorial
Outdoor Dining Table Plans
DIY Dining Table Set
How to Build a 4×4 Farmhouse Table
Build This Rustic Farmhouse Table
DIY Rustic X-leg Console Table with Plans
DIY Farmhouse Style Dining Table
DIY Pipe Leg Table | Workbench Plans And Rustic Furniture Tutorial
THE SWEETEST DIGS
How to Build a Chunky X Farmhouse Table
CUTTING TABLE PLANS
Rustic Farmhouse Table Plans
DIY Farmhouse Dining Table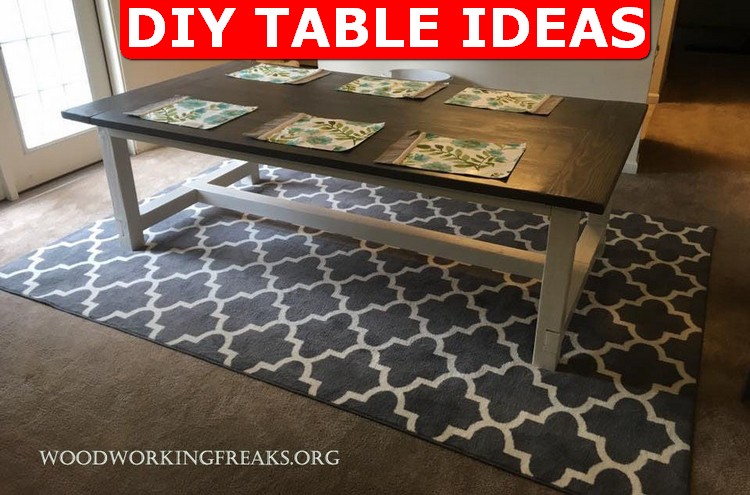 Make a Dining Room Table by Thanksgiving
DIY FARMHOUSE TABLE AND BENCH
DIY FARMHOUSE PEDESTAL TABLE
How to Build Bookshelves for a Recessed Nook