30+ Easy to Make DIY Mirror Decor Ideas
Mirrors make great decorative additions to your house. No matter if it is your bedroom, lounge or bathroom, a beautiful mirror can lighten up any room and corner. Store-bought mirrors can be pricey and chances are that they will not be according to your preference. The solution? Make one yourself.
You can buy a plain or tinted mirror for it or use any spare mirror you have at home. Below we have discussed a number of impressive mirror decor ideas that you can make yourself and have a great piece of art in low cost.
What are you waiting for? Read on.
How to Make a Sunburst Mirror
A beautiful sunburst mirror having a summery look and impression is great to lighten up your room instantly. The design is easy and perfectly simple to make. All you need is a mirror of your chosen size, a template and cardboard paper. For further design details, click the link below.
DIY FLOWER MIRROR
DIY mirror decor cannot get any simpler than this. Just a plain mirror and a bunch of fake flowers, and you are done. This decor design is simple, easy to make and a chic way of upgrading your bedroom mirror. Want to make one? Click the tutorial below and get going.
DIY Pottery Barn Eagan Mirror
An absolutely unique mirror and a total eye-catcher. This multi-panel mirror is a stylish cut from the traditional mirrors and will definitely add character to your living or bedroom. And the best part is, it is simple and quite affordable to make. For further details on how to make one for you, click below.
DIY Sunburst Mirror Tutorial
Another sunray inspired DIY mirror decor design on our list. Instead of cardboard paper, the material used is standard wooden shims. The decor design uses tinted shims that you can paint yourself and you can customize the mirror with family photos. To get the complete tutorial, follow the link below.
Un cadre fait de petites cuillères
A true DIY inspiration for many of us! This beautifully crafted mirror is adorned with painted wooden spoons arranged all around it to give it a nice halo. Instead of wood, you can also use plastic spoons and improvise the design with your creativity. For this particular decor, click below and subscribe.
Rope Mirrors Inspired by PB
Beautiful and rustic rope wrapped mirrors inspired by Pottery Barn. These mirrors are simple as you can see that there is nothing fancy used in it, just an old mirror and rope. The mirrors used in the design are round but you can use square or rectangular mirrors also. Click below and see how this is made.
DIY Succulent Mirror
A succulent planter turned mirror. The idea is quite unique and if you follow the tutorial closely, you will have one made in no time. The planter is made of cedar wood while the moss and succulents are arranged through a chicken wire that keeps them in place. For more details, visit the below link.
MAKE THIS: DIY FRESH FLOWER FRAMED MIRROR
This DIY mirror decor idea is immensely feminine and 'floral' as it uses beautiful pink and a white multitude of flowers for a decorative outline mirror circle. Since the design has used fresh flowers, you need to take extra care and, if you choose, you can also use fake flowers. Get the complete tutorial below.
PVC PIPE MIRROR
A creative way to use PVC pipes. For this design, you will need a PVC pipe, of course, and a mirror of your choice. This design has used cream colored pipe but you can use any color you like and customize the design into any shape and size. To know how to arrange the pieces, click the link below.
HOW TO MAKE AN OUTDOOR MIRROR
A window turned into a beautiful outdoor mirror, this project is perfect if you are having old windows sitting around in your house. For the project, you will need an old window border, paints, Krylon Looking Glass spray paint and some other supplies. To know more, visit the below link.
Sunburst Mirror with Paper Ephemera
The third sunburst mirror on our list and the fancier than the earlier two. This mirror is made with paper ephemera in different color and design. You can use any paper and even cardboard paper for a much 'staying' look and quality. For a quick tutorial on how to make these cones and arrange them around the mirror, click the link below.
Mirror DIY Art Wall Home Decor Living Room
A decorative multi-penal mirror made with different hexagon mirrors. This kind of DIY mirror decor design is an impressive touch to your living room or lounge. For this, you will need some hexagon mirrors, a wooden board, preferably, and hot glue to attach everything together. Instead, if you want to buy a ready hexagon mirror, click below.
How to Make A Decorative Chrysanthemum Mirror
Beautiful chrysanthemums inspired DIY mirror decor. The design aims at replicating the big and beautiful chrysanthemum flower and is made with plastic spoons. The upper part of the spoon is used as petals while the handles are used to support the two boards at the base. For other design details, click the link below.
DIY Mirror Wall Sticker Wall Stickers
A perfect way to add mirrors in your room without adding the bulk. These 3D flexible mirror stickers work great in your entire house and help you in adding something unique to your home decoration arsenal. You can find these beauties online and from the store also. To order online, click the given link.
THE EASY WAY TO MAKE A CLOTHESPIN WREATH MIRROR
A great idea to use your clothespins in a creative manner. If you are wondering what to do with your spare wood clothespin then this DIY mirror decor idea is just the thing for you. all you need are wood clothespins, scrapbook or decorative paper, paintbrush, craft knife and, of course, a mirror. For further details on how to assemble them, visit the link below.
FRENCH-STYLE TRUMEAU MIRROR
Decorate your home with something exotic. This French-style Trumeau mirror is a floor-length mirror, ideal for your bathroom, bedroom and hallway, just before the main door. It is made with 100% home supplies and you will need some accented wood for it. for complete details on how to make one, click below.
DIY: Mosaic Mirror

DIY Mirror Decor
PINTEREST CHALLENGE: D-I-Y ROPE MIRROR
DIY Wood Slice Mirror
DIY Mirror Made With Plastic Spoons for Cool Decor
AstroBrights Paper Rosette Magnetic Mirror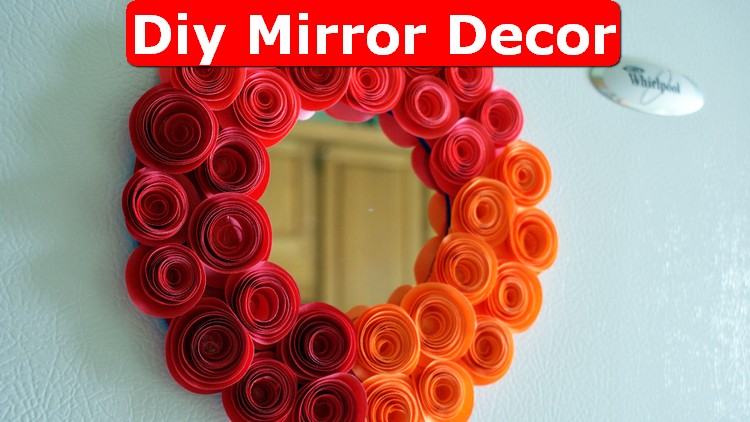 DIY MIRROR JEWELRY WALL HANGERS
back from the edge of a crafting disaster
DIY FROSTED GLASS DOILY MIRROR VASE CENTERPIECE
DIY Seashell Mirror
DIY: Gold Branch Mirror Tutorial
HOW TO MAKE A ROPE MIRROR
Gold Branch Mirror
HEALTHDEPT.ME
DIY FRINGED MIRROR WALL HANGING
I HAPPEN TO LOVE FLOWERS AND MIRROR ART
Thrift-store plate mirrors
Where to Use Mirrors in Your Home
Mirror Decor Ideas- Mirror Planter DIY