40 DIY Furniture Ideas for a Better Home
DIY furniture is great for people who want to have perfect furniture for their house and do not shy away from working for it. Stores and markets are filled with all kinds of furniture ideas and designs and you can also get it custom made according to your choice. But, what if you do not find what you are looking for? Or what if that piece of furniture is way too pricey?
A simple solution is to make one yourself. Especially if you have a good hand in wood work.
Below are some creative and contemporary ideas to help you build an ideal piece of furniture for your home.
Adirondack Chair
This Adirondack chair is a great and unique addition to your house and outdoors. The design is clean and simple and you can see all the lines and definition. For this, you will need some cedar wood, or you can reuse some from your old fence. For more, click below.
DIY PALLET COFFEE TABLE GETS AN OUTDOOR MAKEOVER
An amazing outdoor coffee table made with wood pallets. The table is a great idea if you want to revamp your old table and give it a new look. The project uses wood pallets, colored and glued to the top of the table and left to dry. To know more, please click the link below.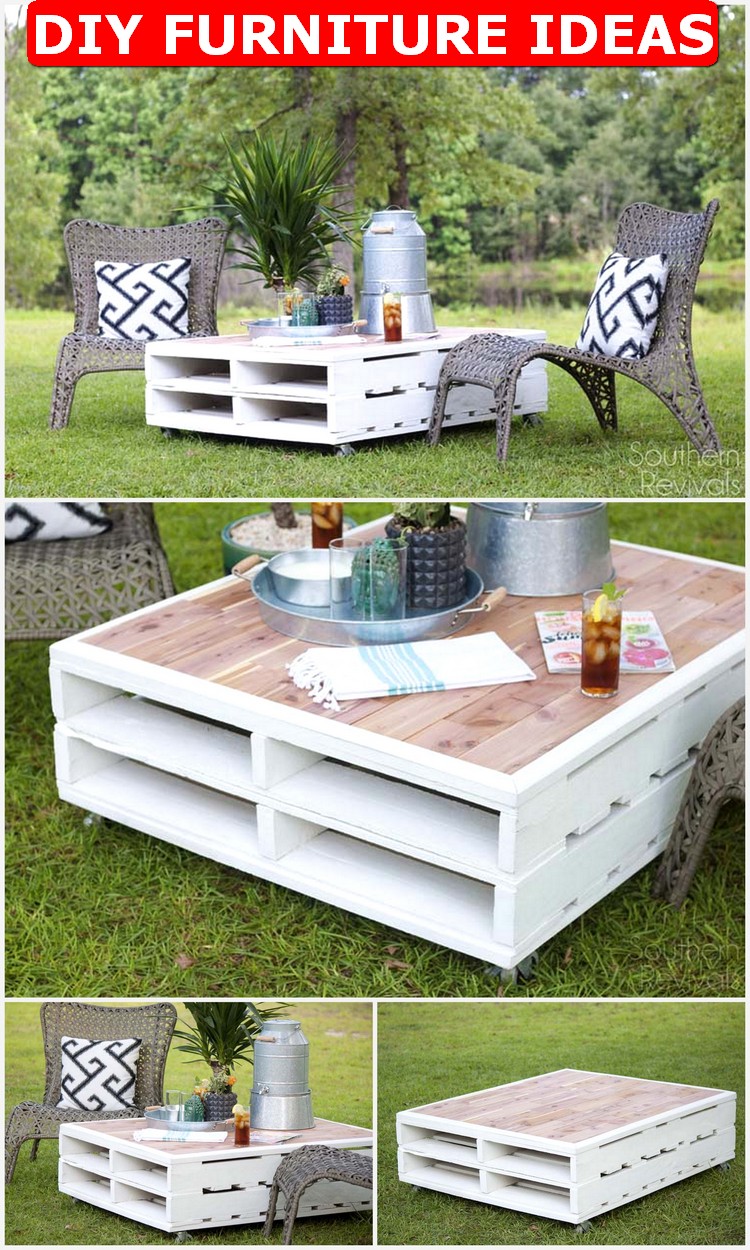 КРЕСЛО-КАЧАЛКА – МК
A unique rocking chair for two. It is perfect as a shift from the usual and traditional rocking chair and make something new. However, the design is intricate and we suggest that you get professional help for it. To know more about how to achieve this look, visit the link below.

Thrift Store Challenge – Furniture Makeover
Ever bought something from a thrift store? This table remodelling is a good idea to create something new and beautiful from an old table. The table is painted and the knobs are also changes. You can use it for storage in your bedroom or bathroom. For more, click the link below.
DIY Outdoor Table | Free Plans
The table has gorgeous Herringbone design and it is surprisingly way to follow and achieve. However, if it is your first time then we suggest that you get some help. The pieces are cut and glued separately to get this beautiful and unique look, for complete details, click the link below.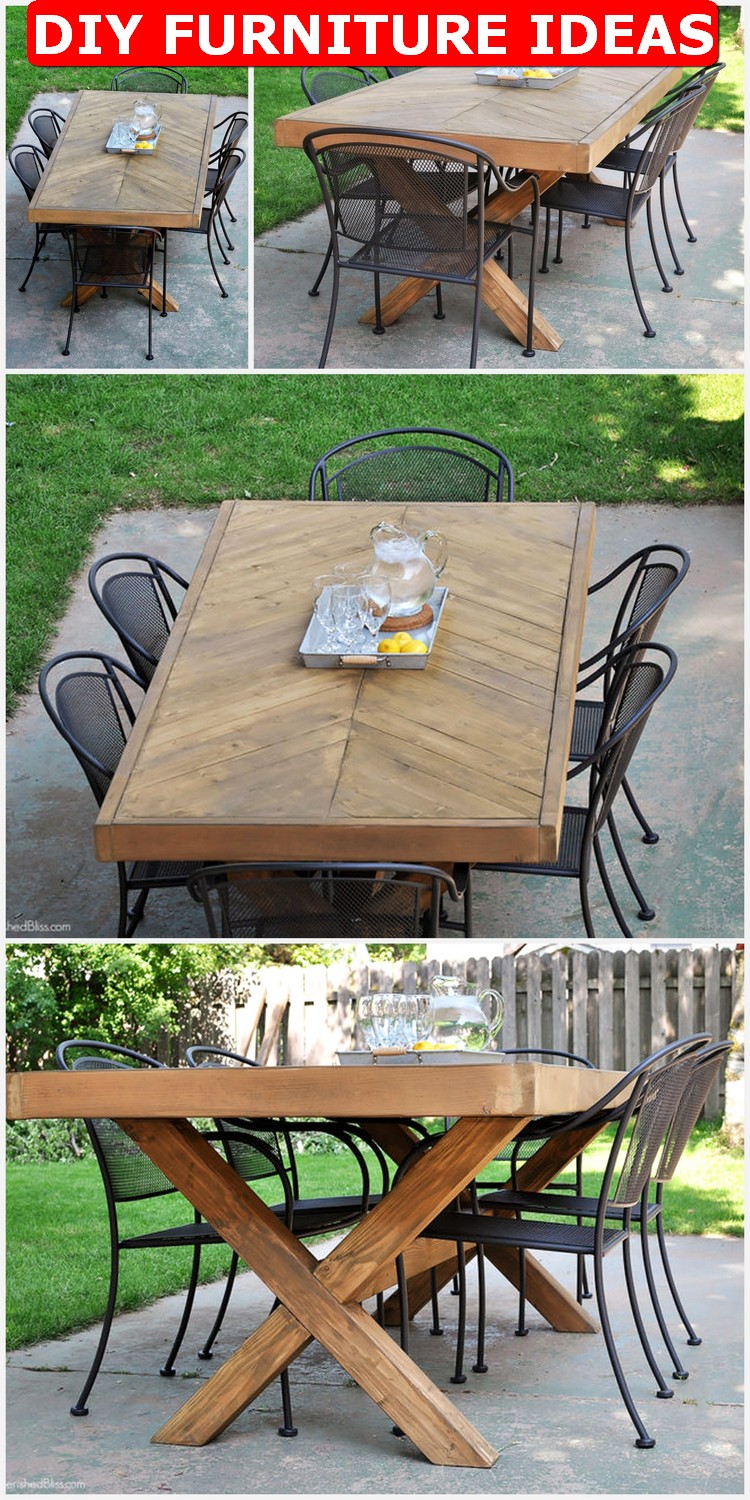 DIY: PALLET SECTIONAL FOR OUTDOOR FURNITURE
This is a great idea if you want a functional sitting arrangement. The idea is simple and you can make the entire furniture at home and by yourself. If you want a soft seat, you can add some cotton or fur before sewing it while the shallow part could be used as storage, for more, click below.
DIY OUTDOOR FURNITURE
A DIY project does not get any easier and simpler. All you need are wood pallets, screws and screw machine to arrange and assemble everything. All you need to do is to follow the instructions closely and you will have a great outdoor couch at your disposal. For other details. Click below.
BUILD A CORNER BENCH WITH BUILT-IN TABLE
Want a corner benches revamp idea? This idea is perfect and simple to make. This design has side built-in side table in it that you can use for coffee when you are having a small chit chat with your friend or you can also decorate it with flowers. For complete information, click the link below.

DIY COPPER CABANA
This is no less than a small magical place in your yard and the best thing is that it does not use any hard to find and manage material. You will need copper pipes to make this copper cabana and some curtains, preferably light in color, to go with it. For other details, click below.
DIY Outdoor Couch
The couch works great as an outside sitting accessory and for your living room also, if you make it bigger and more elaborate. All you have to do is to arrange the wood pallets as described in the details and add some cushions for a comfortable look. For complete details, follow the link.
Outdoor Movie Theater Seats
Want to have a movie theatre in your backyard? Great idea and this the following tutorial will help you in making it easily. The project uses thick and broad wooden pieces, attached with hinges and soft seats to make your movie experience great. For more and complete details, click below.
Mr. Goats' Father's Day Gift
A unique idea to make your outdoor space or backyard functional and beautiful. The look is complete with the addition of soft seats and cushions and you can make it in any color that you like. If you are good with wood work then this project is easy and fun for you. For other details, click below.
INDUSTRIAL WOOD & STEEL CONSOLE
This is a great storage on wheels idea. The project uses wood pallets and steel wheels. Interestingly, you can make the table without wheel also and use if for multiple purposes. The pieces are attached with Simpson Strong Tie and you can stain the wood in any color. For complete design plan, click below.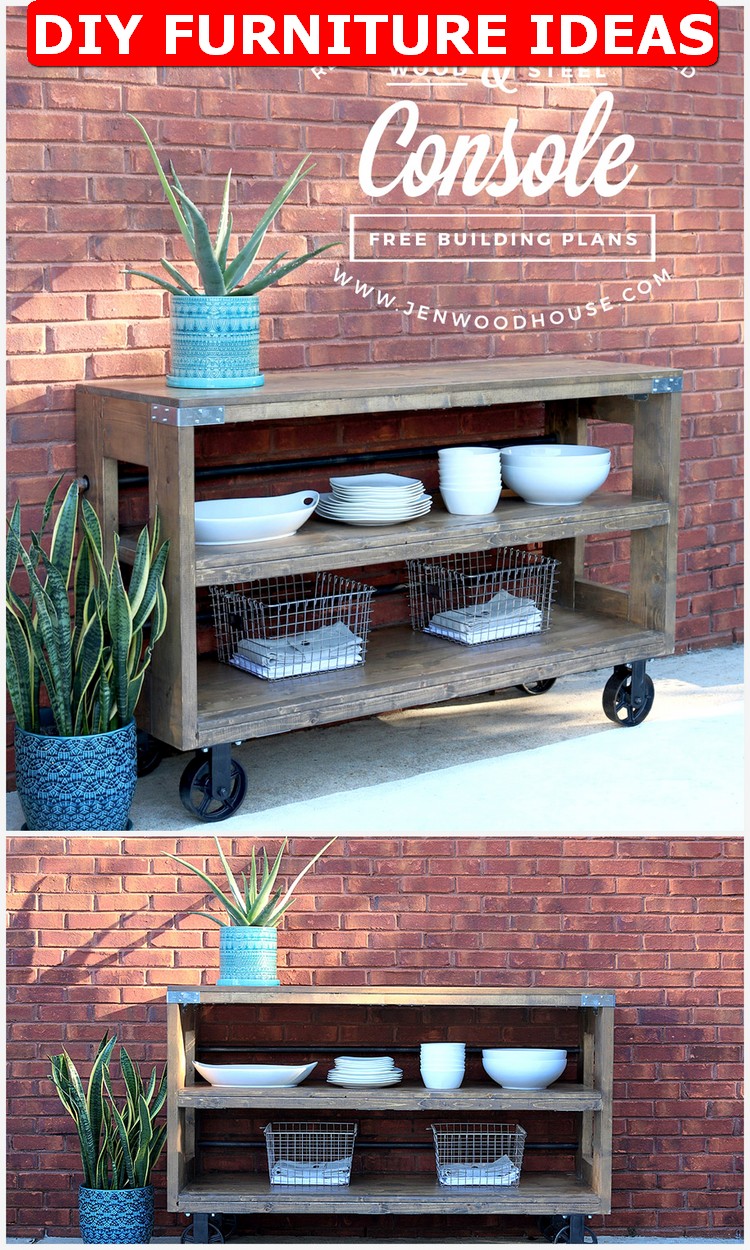 DIY OUTDOOR SECTIONAL
The chair is made with wood pallets and just like the other designs in the list, it is easy to make, since the design is clean and great for intermediate skill level. To complete the look, add some foam cushions, or any other if you like. To get complete instructions, click the link below.
Modern Outdoor Chair from 2x4s and 2x6s
Looking for some unique chairs for your outdoor? This design is great for it. Unlike the other chairs and benches designs in the list. This design is quite sturdy and uses thick wood for its built. The chair is made more comfortable with the addition of cushions and foam seats. Click below for more details.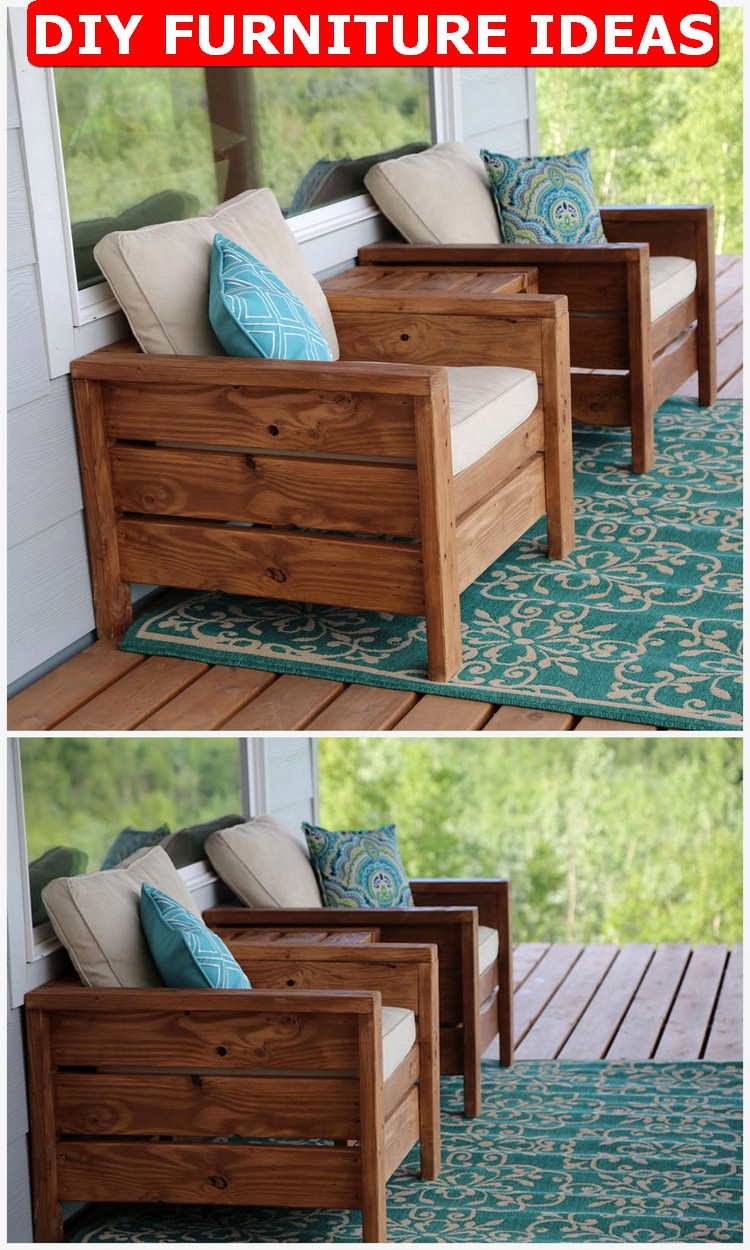 Ballard Designs Inspired Patio Table
This design is an upgraded cable spool table. You can use it as a side table and you can also use it as a center table for your outdoor sitting. To surround the lower part, manila and sisal rope are used while the glass table is reused. You can make it in any other design and design also. For more, click below.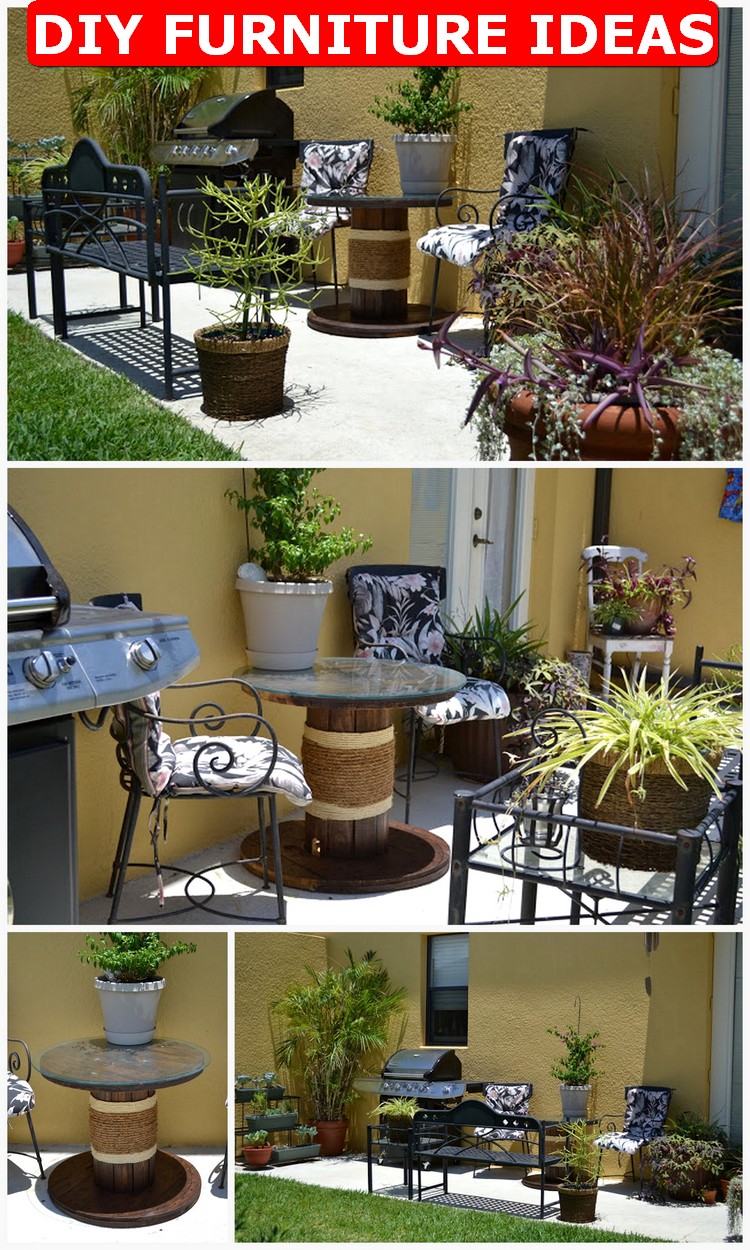 It's solid and stable and you can build it in a weekend!
An umbrella table for your swimming pool. The design is easy to make and with some help you can build it in a few hours time. The project uses plywood to make the sections and you can also use the shallow part for storage. Want to know how to make this complete patio table? Click below.
DIY Kids Outdoor Table Free Plans
Looking to make something for your kids? This table works great for your kids outdoor activities. The table is sturdy and solid and you and stain it in some funky colors also. To complete the look, paiir some chairs and benches with it. For complete details, click below and create one for your kids.
Simple $20 DIY Outdoor Dining Table – Plans And Video Tutorial
Outdoor Chaise Lounge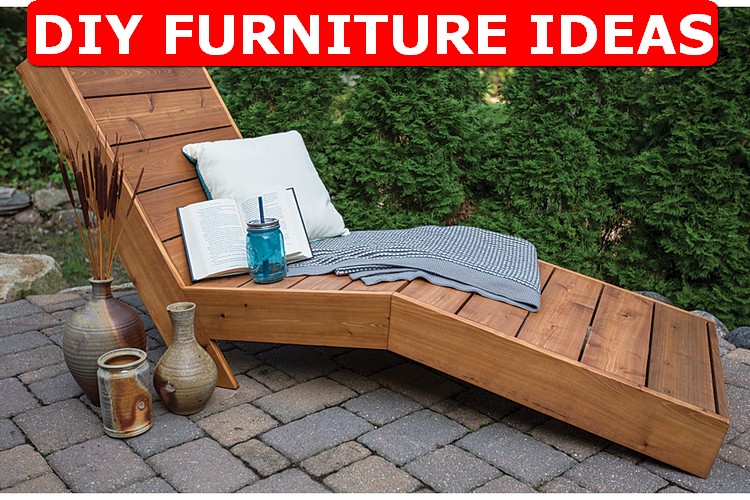 How I built the pallet wood sofa
How to Build a Simple Chevron Outdoor Privacy Wall
How to Build a Tree Bench
DIY Grass Bed Offers a Cozy Green Oasis
DIY  Five Piece Outdoor Adirondack Furniture Set
DIY Outdoor Loveseat and Sofa

How to Build a Fire Table
My New Favorite Spring Project
DIY TRUSS BEAM FARMHOUSE STYLE OUTDOOR TABLE AND BENCHES (RESTORATION HARDWARE INSPIRED
MAKE THIS: WIRE BASKET SIDE TABLE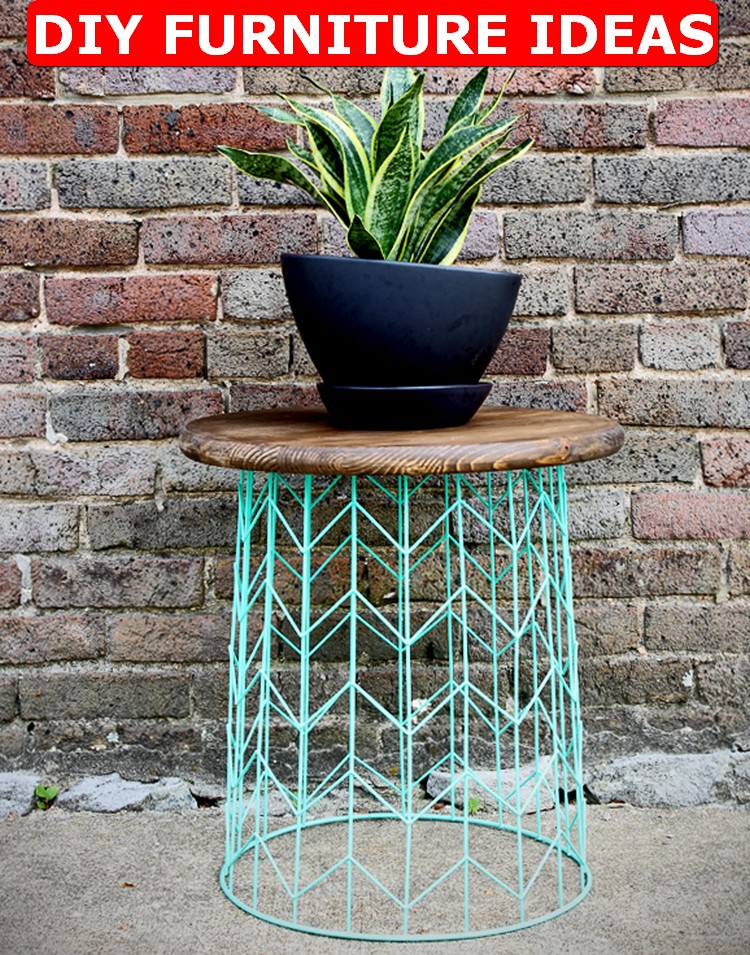 Most Comfortable Outdoor Furniture Best Choosing
How to Build an Outdoor Table
How to Build a DIY Modern Outdoor Sofa
diy-hammock-chair
Do-It-Yourself Picnic Table Tutorial
Ana's Adirondack Chair
How to Build Adirondack Chairs: Easy DIY Plans