2019 Exclusive and Inspirational Crochet Bag Patterns
Looking for some great crochet bag patterns? We have got just what you are looking for. Crochet bags are quite versatile in nature and they could be personalized according to your liking. Crochet is a specialized knitting art and if you are passionate about it, then these designs and patterns will inspire you to create something special today.
In case you are not into knitting, you can get them done by a professional. To get you going, we have a quick round-up of some beautiful, chic and easy to make crochet bag patterns. Scroll down and choose a design for your next crochet design project.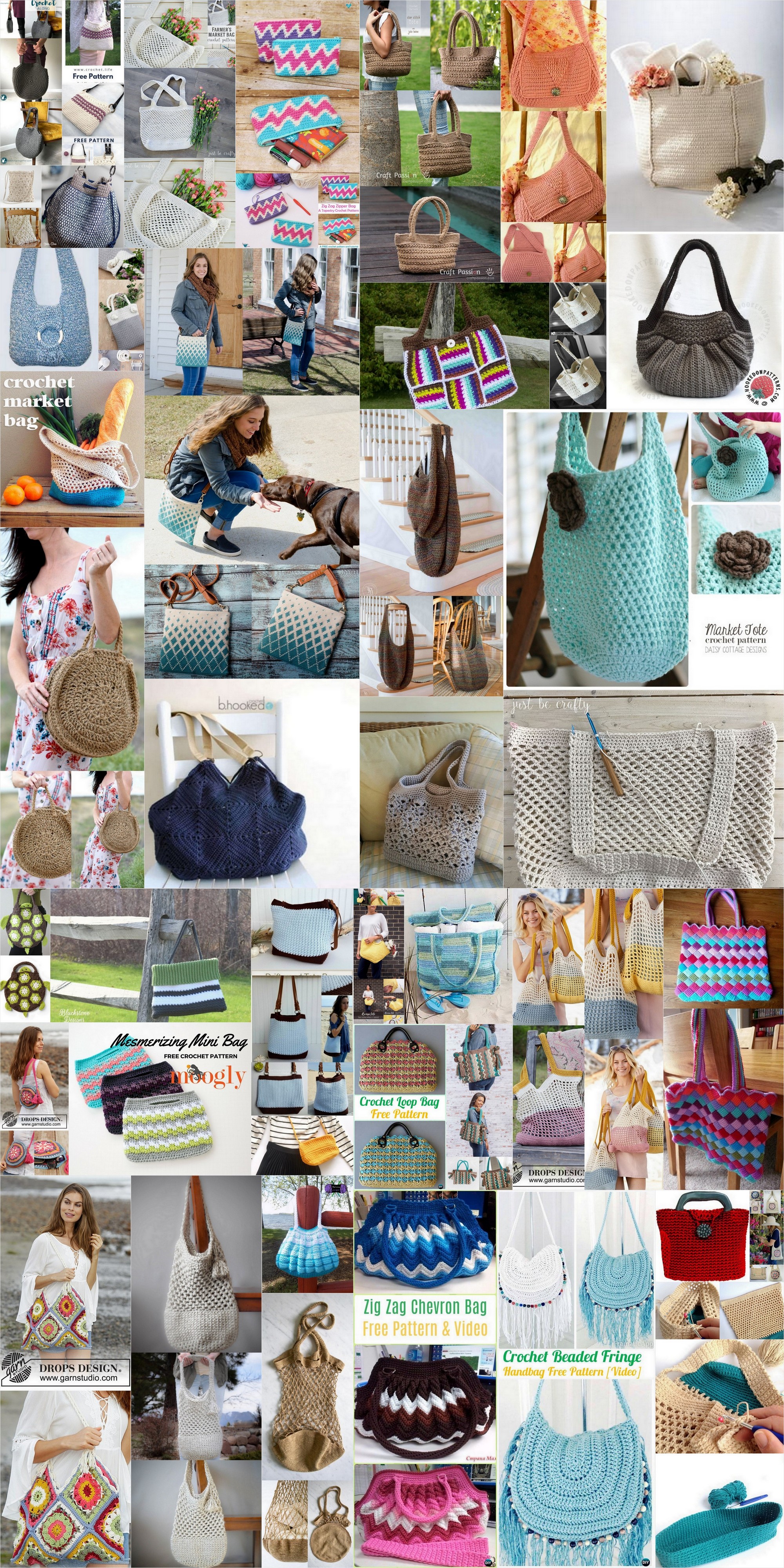 Free Crochet Pattern: My Favorite Tote Bag
An absolute must for everyone who is looking for a simple yet stylish crochet bag. This tote bag is customizable and you can change the colour or pattern of the flower design. It is in a mild off white color while the flower design is in different colours. Pink, blue, purple or yellow, choose whatever color you like.
RIVIERA TOTE CROCHET PATTERN
With sunny hue of yellow sunshine, this cute crochet bag is reminiscent of summer. The bag has a unique 'waistcoat stitch', or knit-look crochet stitch technique, which makes it so unique. The design is completely customizable and you can make it in any color while the wooden handles complete its distinct look.
TITAN TAPESTRY CROCHET BAG
Perfect for shopping and college! This crossbody crochet bag design is made Lion 24/7 Cotton yarn and is extremely versatile in usage. Mage in a beautiful Ecru and Jade colored yarn. The bag is just that its name suggests; a tapestry. The look is completed with a high quality and removable leather strap.
Driftwood Tote Bag Free Crochet Pattern
An extremely simple yet modern design, ideal for everyday use. The yarn used in the featured design is from I Love This Cotton and the crochet stitch is Single Crochet 2 Together (sc2tog). Choose any color and design scheme, solid or stripes, and get a ready made handle or crochet it yourself.
how to crochet a summer circle bag – free crochet pattern
An airy summer round bag, ideal for personal use as well as a great gift for family members and friends. The material is inexpensive, it's made of jute, and the look is simple, stylish and somewhat bohemian. The bag is made using the granny stitch technique and the handles are made with slip stitches. Great to give you a summer crochet inspiration.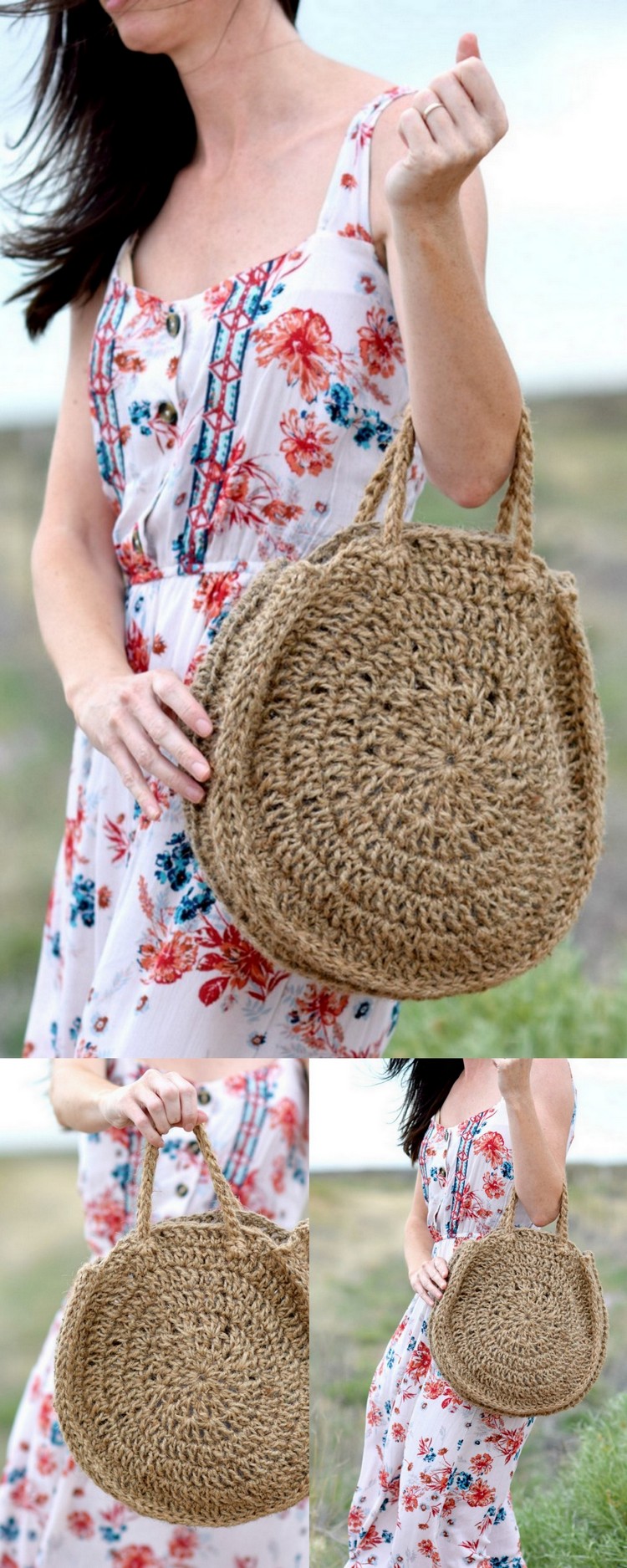 STITCHING TOGeTHer
Looking for something elegant and stylish in a solid color? Introducing the Cities Circle Bag Crochet Along. The bag is simple and only requires basic crochet stitching knowledge. Interestingly, you can choose any material of the yarn, cotton, jute or chunky yarn and customize it. Other than solid colors, you can use other mild colors also.
RED HEART FLAME STITCH BAG
Something that makes this design so appealing is its simple and modern look. The bag is made in two colors and with a chevron design, a unique take on traditional knitting. The design is clean with defined cuts and stitches while the pom poms and tassels adds a much needed playfulness to its character.
CROCHET STAR STITCH TOTE
Made by jute twine and with the Star Stitch crochet technique, the bag's design is ideal for those who want to have something that is both contemporary and rustic. The rows of stars are separated with a crocheted lost term that adds to its definition and sophistication. You can make it in yarn also.
Back to the Beach 
Flexibility, simplicity and elegance define the design perfectly. The bag is completed with a crochet handle and is ideal for your farmers day or beach spree. The lacy design is in two tones but you can choose between single and double colors. Instead of yarn, you can use jute also for a countryside look.
Free Market Tote Crochet Pattern
Ideal for personal use as well as for gifts and giveaways. The design is made in cotton yarn and is finished with a beautiful flower. The design is made in small size but you can get the dimensions for bigger bag by following the mentioned link. Customize it in any color and with different embellishments.
Tunisan Entrelac Tote Bag
A unique design with a different crochet stitching technique. This beautiful and clean pattern is made with Tunisian Entrelac crochet, Tunisian Simple Stitch and Slip Stitches and has a crocheted handle with it. It is made with multicolor Double Knit yarn while you can choose any other color; solid or mild.
Mini Crochet Tote Bag – Red Clover Pattern
This mini crochet bag pattern is affordable and comes handy for picking flowers. The bag is made in mild colored yarn with stripes of an accent color. The special stitches used are bean stitch and puff stitch, worked alternatively and the design is completed with a readymade and long handle.
LILY SUGAR'N CREAM CROCHET SEA TURTLE TOTE BAG
Looking for an interesting summer crochet project idea or something to gift to an adorable kid? This turtle shaped crochet bag will make an ideal gift for them. The idea is quite unique as it is made with crochet hexagons like that of a turtle's shell, and natural soft cotton.

Crochet Handbag
The pattern is feminine in essence and retro in style with its retro flap design. It has a long handle and magnetic button and the stitches used include double crochet, half double crochet, reverse single crochet, single crochet and slip stitch. It is a beautiful design and unique as it has a modern and retro look.
Linen Market Bag
A perfect solution for effortless farmers market and grocery shopping. Managing plastic bags is hard and you don't need to do it, really, when you can have a crocheted shopping bag. The bag is made with Bockens Tow Linen and is impressively durable. To make it look even more rustic, use good quality jute.
Crochet Farmer's Market Bag Pattern
Named as The Farmer's Market Bag, this bag is simple and equally suitable for beginners and advanced level crocheters. The bag is made in a neutral color that you can change into any other that you like. It has long handles and is extremely flexible to carry goods and flowers alike.
Beach Mat and Tote Bag
A beautiful and functional addition to your beach day arsenal. The bag is ideal to carry all your beach and park supplies like mats, towels and disposable utensils. A beautiful design made with different colors and customizable according to your preference. Make one for your picnics and outings and enjoy while you keep everything organized.
DROPS DESIGN
One of our most favorite bag patterns. The design is made with lots of colors and is great to be used for various purposes. The bag is quite big and you can carry lots of your things in it. Besides, it is a great gift for your friend or cousin.
Little Red Crochet Bag
A beautifully designed and crafted pattern with festive  character. Red is the color of happiness and festivity. The small clutch is ideal for Christmas season and dinners and for a party night. Thinking about what to gift your friend this Christmas? Make something special, like this bag, for your special friend.
Zig Zag Zipper Bag A Tapestry Crochet Pattern
What to do if need something to store and keep small things? Crochet this bag. The bag has beautiful chevron design that you can change but we like it this way. It is made with tapestry crochet and, additionally, you can keep your makeup in it and carry it in your bag.
Crochet Festival Beaded and Fringed HandBag
Summer Treasure by DROPS Design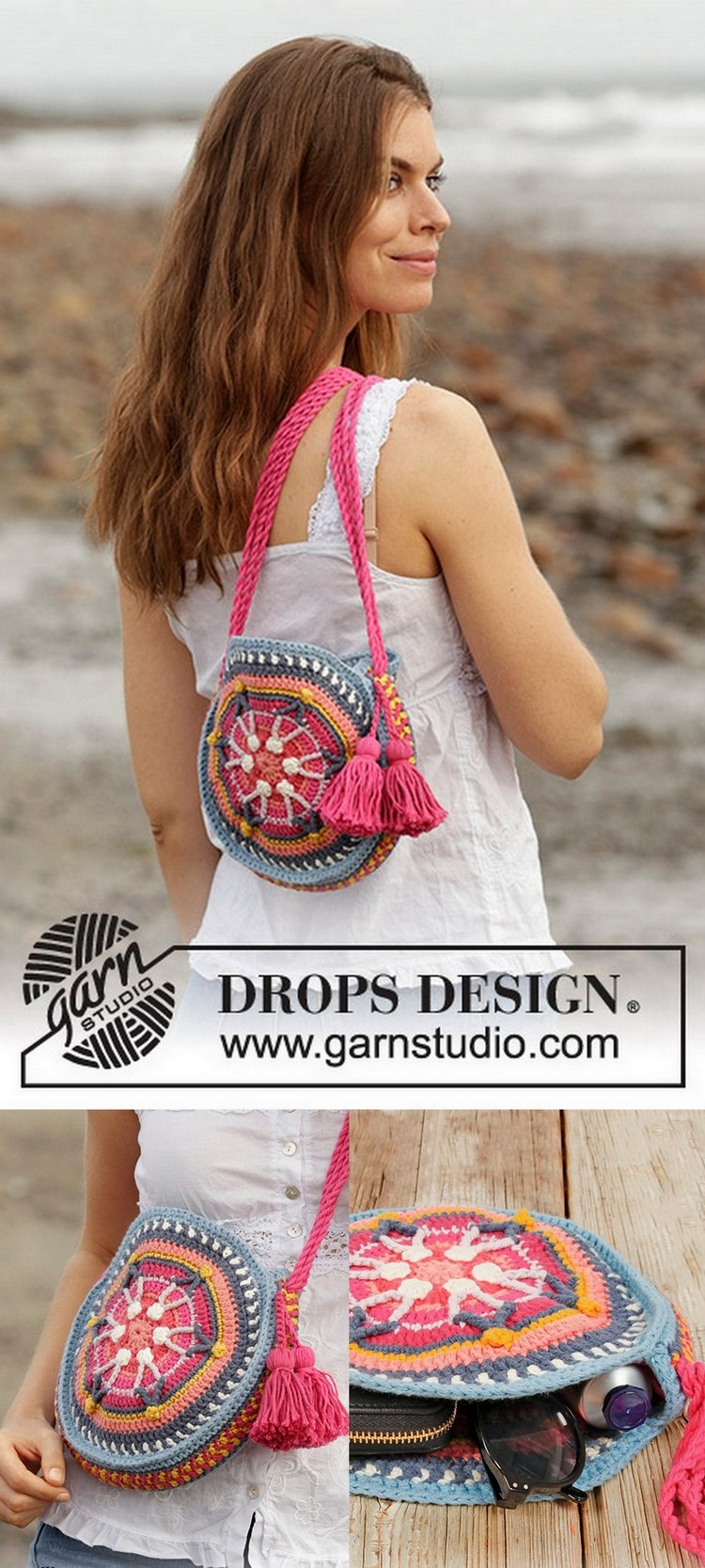 Tote Summer Bag
manhattan market tote – crochet pattern
"SUZETTE" FREE CROCHET BAG PATTERN FOR BEGINNERS

Extra Large Market Bag Free Crochet Pattern
Crochet Pattern, market bag, 
Handbag Crochet Pattern 
Bolsa Zig Zag
Gradient Blocks Handbag
MOSAIC BUCKET BAG CROCHET-ALONG
Crochet Sweater Bag
Patchwork Tote Bag
Crochet Tote Bag
Daisy Fields Market Tote Crochet Pattern
DIY CROCHET MARKET BAG PATTERN
Granny Square Tote
Hip Hobo Crochet Bag Pattern
Aster Alpine Stitch Bag