Creative and Handy DIY Rug Plans
Want to add a little character to your room? Add a rug. Rugs are great additions to bedrooms and living rooms while some lighter versions work best for bathrooms and kitchens also. They a4re functional, beautiful and easy to manage. If you are not into DIYing then you can buy a good rug from a store. But, if you are like us and want to have some great rug ideas to make, then we are glad that you stopped by.
These DIY rug ideas work great in both ways; if you want to order it and have it made or if you want to make it yourself.
Follow us.
CONVERSATION PIECES
This colorful felt rug is made by sewing the Pinocchio rugs replica together. The rug is colorful, soft and works great in your bedroom and living room. For this, you will need some Pinocchio rugs replica, or make it yourself if you can, and basic sewing skills. For other details. Click below.
DIY Mod Podge Fabric Rug
This mod podge fabric rug is stylish, colorful and functional to be used in any room, especially the bedroom. The rug is made with decorator fabric, rug pad and paint roller to roll and even the color. The size depends on the size of your required rug. For complete details, click the link below.
FABRIC TWINE SPIRAL MAT
Making this rug is a great way of reusing your old and waste fabric. Just twine it and make the spiral rugs. All you will need is darn c twines and sewing machine. Just roll it layer by layer and make various sized flat spirals. To know how to twine the fabric and make the rug, click below.
DIY POLKA DOT RUG
A classic polka dot design. The design is achieved by cutting and placing the freezer paper on the premade circles and spraying it with black. Other than these, you will need a low pile carpet and a well ventilated space to do all the spraying. The rug is quite classy and versatile. Click below to know more.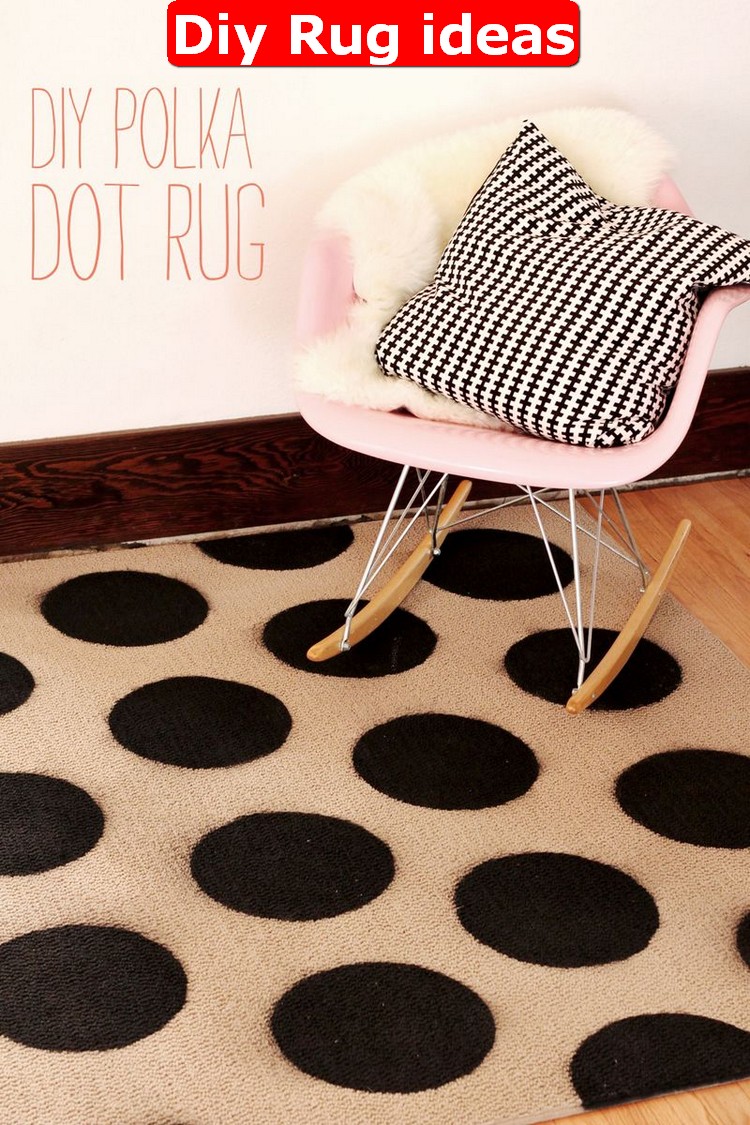 Woven Finger-Knitting Hula-Hoop Rug DIY
This is an extremely creative and fun project. The rug is huge and is made with a hula hoop  and yarn, the one we all use for common knitting projects. However, you will not need any knitting needles for it, just use your fingers. The entire rug is made with this finger knitting technique. To know more, click below.
DIY EASY POM POM RUG
Pom poms are great for home decor and work even better for rugs. You can make the pom poms yourself or get them from a market. This rug is made with an anti slip mat and you will need to stitch them onto them to assemble it. This soft rug is great if you have a baby. For complete details, click the link below.
Wonderful DIY Crochet Rag Rug from Old T-shirts
Want to get rid of your old t-shirts? Making this rug will help you get rid of old t-shirts and reuse them in a new and unique way. You can either use one or two colors or make it all multicolored. Cut the t-shirts into yarn and weave this rug with them. For more information, click below.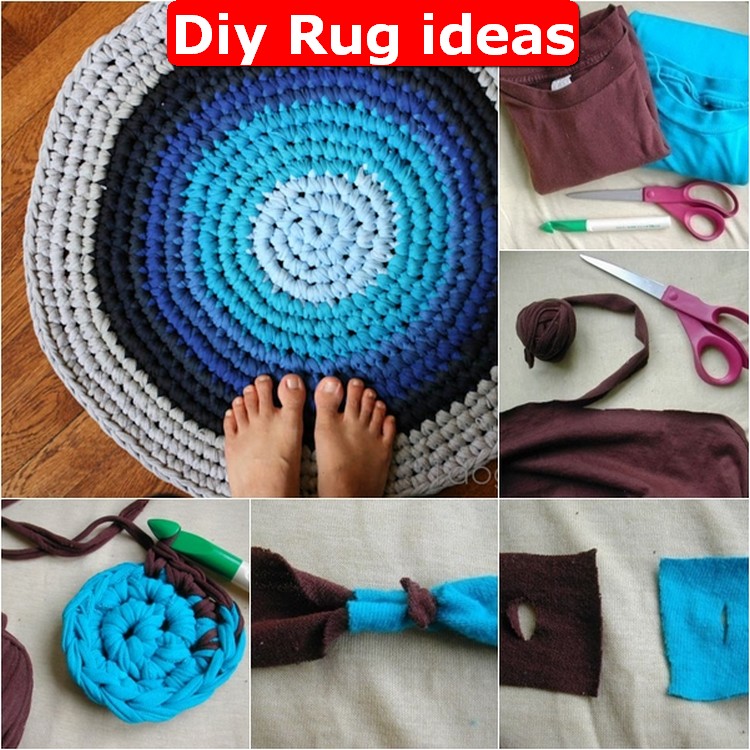 STATIC LINES WOVEN RUG DIY
These static lines rug is a unique and chic addition to your room. The project is somewhat big because unlike a knitting project, you will have to build a loom and a whole setup for it. You have to work the different colored yarn with this loom. For complete information, click the link below.
DIY Positive Vibes Rug + DIY Woven Art Book
For this design also, you will need a loom to weave through the whole design. The design is contemporary, different and a bit on the difficult side. This may need intermediate to advanced skill level because you will need to alternate between different colors while proceeding. Click below to get more information.
How to Make a Rag Rug by Everyday Art
A unique and beautiful blue and pink rag rug. The rug is easy to make and you will not need any special material for it. Fabric in single or various colors and a non-skid rug mat are all you will need. In case you want to sew it, you can customize it as per your choice. Click below for more details.
HOW TO MAKE A HULA HOOP RAG RUG
This hula hoop rag rug is easy to make and you will not have to spend loads on it. All you need is some jersey cloth that you can either buy or reuse some old clothes and a hula hoop to make the rug. Cut the cloth into strips and arrange it around the hoop. For complete design details, click below.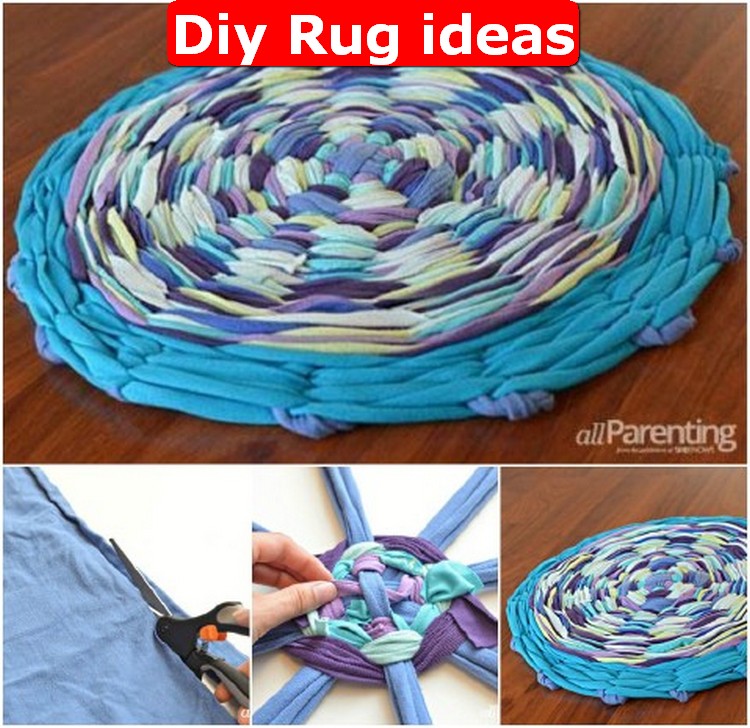 Make a DIY Round Rope Mat or Rug -Depending on how Ambitious You Are
This rug is easy to make and you can make it in a single sitting. All you need is a rope, an anti-slip or any other dense fabric to hold the rope, strong glue and scissors. You can use any type of rope but for a rustic look, we suggest thick yarn rope. For other details, visit the below link.
Charlotte and the Amazing Technicolor DreamRug
Looking for something colorful and cute for your little one? This colorful rug is a great addition to their room. And it is built out of a playmat. You will need felt in different colors and foam interlocking floor mat to go with the playmat. To know how to build the entire rug, click below.
HOW TO MAKE A FELT RUG OUT OF RECYCLED SWEATERS
Get rid of your old sweaters but don't just throw them away. Use them to make a brand new rug for your room. You will need lots of waste sweaters, wool or cashmere or both, and strong glue to hold them together. You can use it as it is or attach an anti-slip fabric under it. For more, click the link below.
DIY rug with old denims
Reuse your old denim jeans in a new and creative way. Denim is a staple in many homes and we are sure that you also have plenty of them. Chances are that you will already have everything that you need for this project. So just cut and glue. To know how to assemble it all, click the link below.
COIL + CROCHET SCRAP FABRIC RUG DIY
An idea project to try your crochet skills. This rag rug uses waste fabric and scraps of cloth that are crocheted into a rug. For this you will need a twine, waste cloth scraps and basic crochet skills. This rag is made in a circle but you can make it in any size and shape. For more details, click below.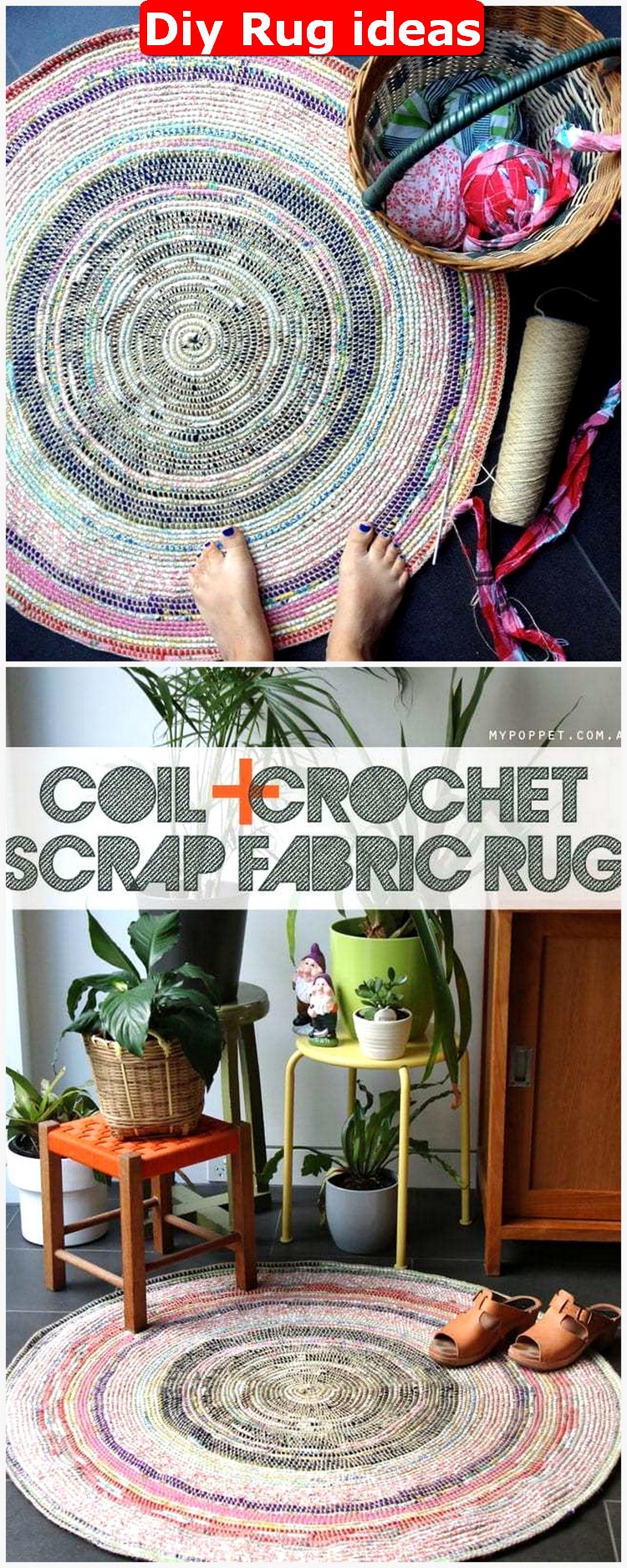 Braided Doormat
A unique nautical weave rug for your house. This rag has a unique look and will be an instant attention grabber in your house. You will need a thick rope, sewing machine and scissors for this project. Want to know how to make one? Follow the tutorial given in the link below.
HOW TO MAKE NO-SEW UPCYCLED FABRIC PLACEMATS
Looking for a perfect no sew placemats for your table? These table placemats are upcycled from waste fabric and are absolutely functional to use and manage. Just gather some scrap cloth, cut them into strips and glue them in circle and you are done. For complete details, click below.
T-Shirt Rug (Update)
This rug is also made with waste jersey t-shirts and a hula hoop to assemble the design. It is easy to make and you can make it in a single sitting. Just cut the stripes of your fabric and use the hoop as your loop. To know more about how you can do it, click here.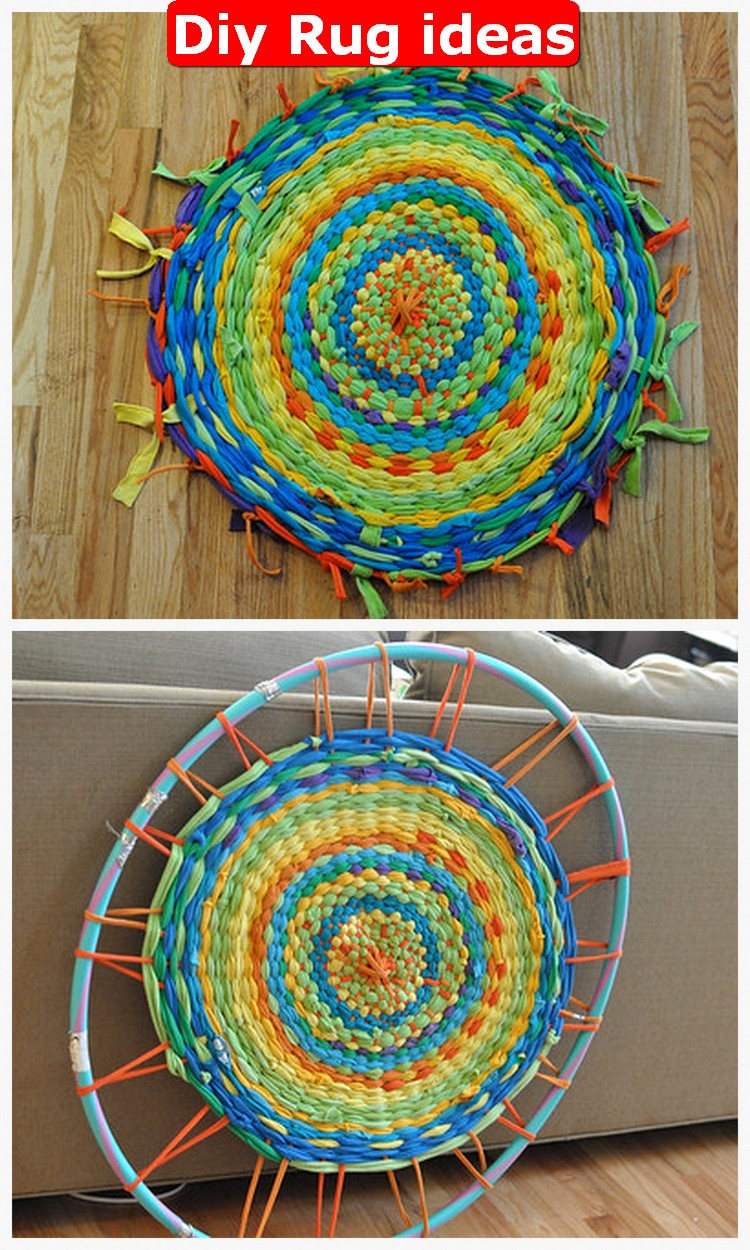 DIY Painted Patio Rug
This painted patio is a great idea to decorate your patio and to make it more functional. The idea is to make a rug that blends in perfectly with your patio and has a unique look. This rug has painted stripes in two colors, you can use other colors also. For more details, click below.
Pom pom rug tutorial
A colorful pom poms rug that is colorful and has a very playful look. This is made with multi colors, as you can see, but you can make it in a single color also. As for the pom poms, make it yourself or buy them. To know how to make the rug out of them, click the link below.
Wine cork bath mat
How to Make a Colorful Pompom Rug
DIY UNICORN RUG
How-To: Woven Rug using a Cardboard Loom
DIY HOME: FELT BALL RUG
IKEA Rug Hack: Stenciling an Oriental Ikat Carpet
DIY: Fleece Scraps Rug
DIY Stenciled Chicken Tracks Door Mat
DIY TUTORIAL WITH THE BEST YARN FOR FLUFFY POM POM RUG
DIY SISAL RUG
Stenciled Outdoor Rug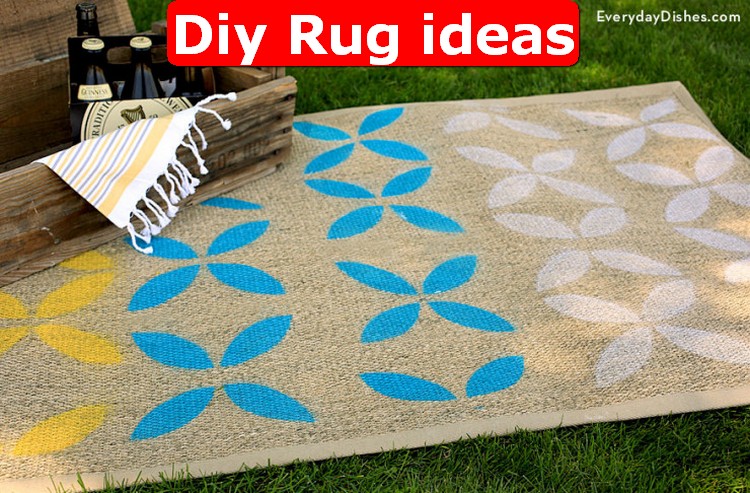 OCEAN STONE BATH MAT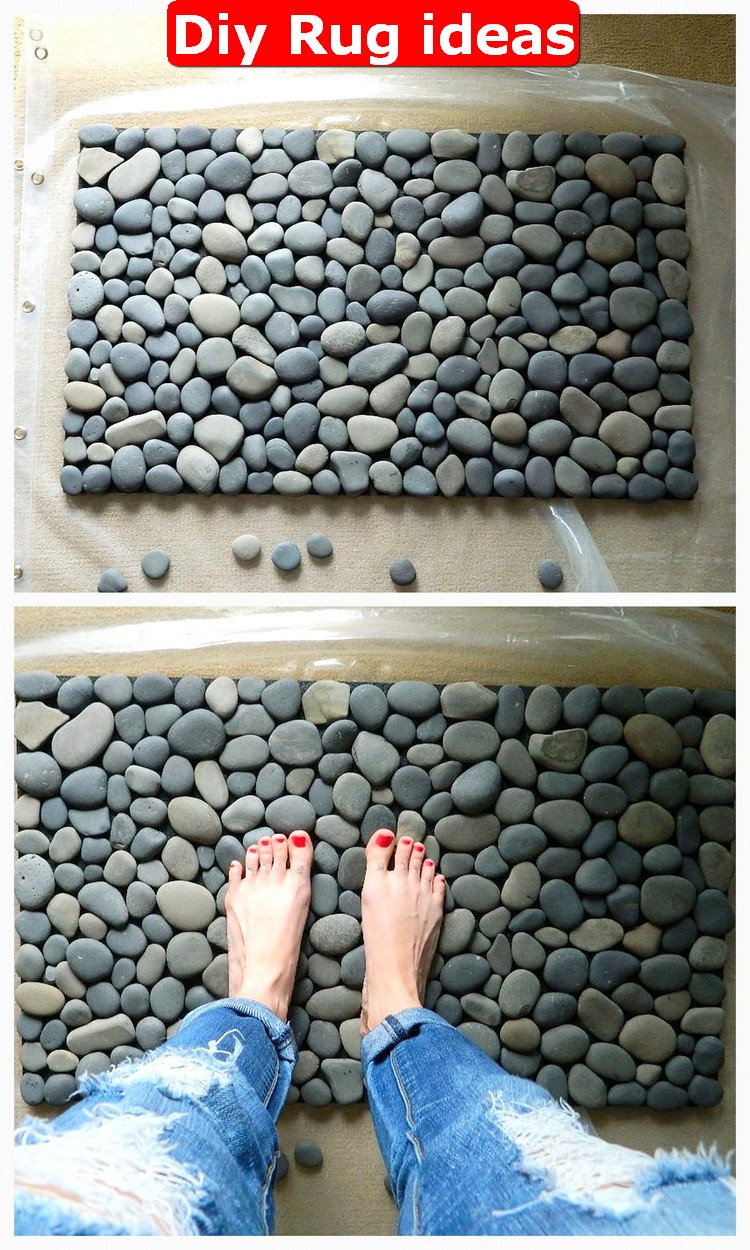 EASY TO MAKE UNIQUE DENIM HANDMADE CHEVRON RUG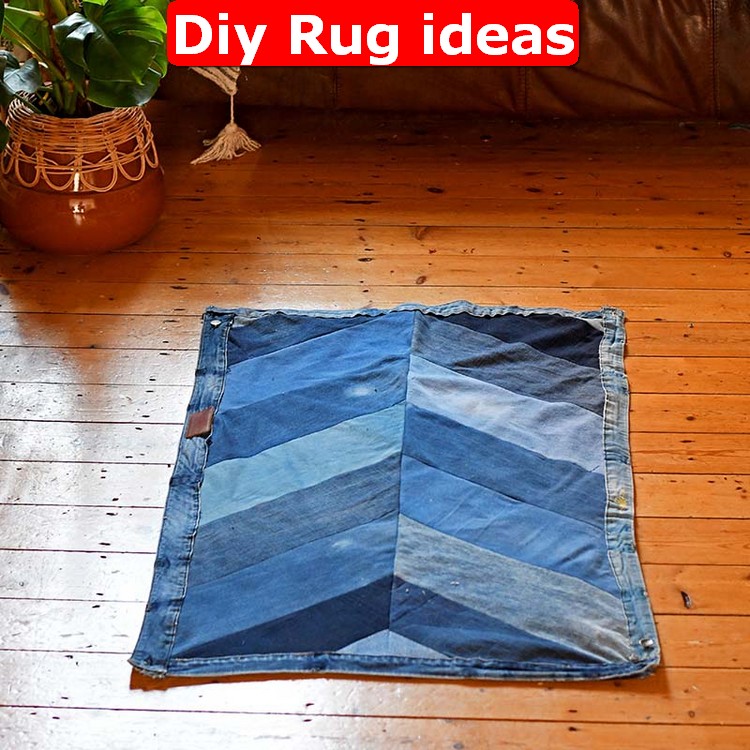 DIY RUG FROM SCRATCH!