Amazing Outdoor Kitchen Ideas Your Guests Will Go Crazy For
An amazing outdoor kitchen transforms your outdoor space into a culinary haven, where the pleasures of cooking and dining intertwine with the beauty of nature. With the perfect blend of functionality and aesthetics, this space becomes a hub for creating delectable meals and unforgettable memories. Equipped with high-quality appliances, ample counter space, and thoughtful storage solutions, an outdoor kitchen caters to both casual gatherings and extravagant feasts. Whether you're grilling, baking in a wood-fired oven, or experimenting with gourmet recipes, the open-air setting enhances the culinary experience. Add a touch of comfort with cozy seating, ambient lighting, and stylish decor that seamlessly bridges the gap between interior and exterior design. An amazing outdoor kitchen not only extends your living space but also elevates it to a realm of gastronomic delight and social enchantment, creating a seamless connection between the art of cooking and the joys of outdoor living.
Discover outdoor kitchen ideas that will leave your guests utterly captivated and eager to savor the experience. Picture a well-appointed cooking oasis nestled in your outdoor space, where culinary artistry meets the pleasure of open-air living. Install a sleek, built-in grill station as the focal point, flanked by counters for food prep and serving. Incorporate a wood-fired pizza oven for gourmet delights that will delight any palate. A stylish bar area equipped with a sink, refrigerator, and seating ensures refreshments are always at hand. To enhance the ambiance, consider adding a pergola with retractable shade for a touch of elegance. Embrace the charm of pendant lighting or lanterns that illuminate the night, setting the stage for unforgettable gatherings. With plush outdoor seating and a cozy fire pit, you'll create an inviting atmosphere where conversations flow effortlessly. These outdoor kitchen ideas promise to ignite a culinary spark in your entertaining repertoire, ensuring your guests will be utterly captivated by the exquisite blend of culinary artistry and outdoor living sophistication.
An outdoor wooden pallet kitchen brings a rustic and inventive touch to your outdoor culinary experience. Crafted from repurposed pallets, this kitchen concept embodies sustainability and creativity, making it a conversation-worthy addition to your outdoor space. The combination of weathered wood and practical design elements creates a charming atmosphere that complements the natural surroundings. Equip your pallet kitchen with a functional countertop, a built-in grill or stove, and storage solutions cleverly integrated within the pallet structure. The rustic character of the wood adds warmth to the space, while the open-air setup adds a sense of freedom and connection to nature. Whether you're hosting casual cookouts or preparing gourmet meals, this outdoor wooden pallet kitchen offers a unique blend of style and functionality, creating a gathering place that reflects your individuality and embraces the joys of outdoor living.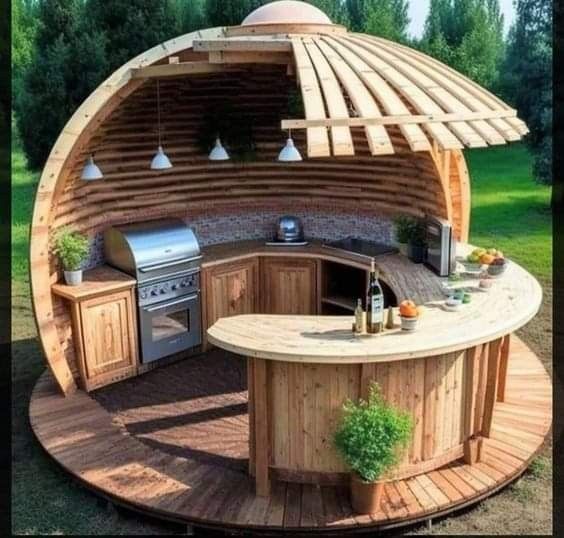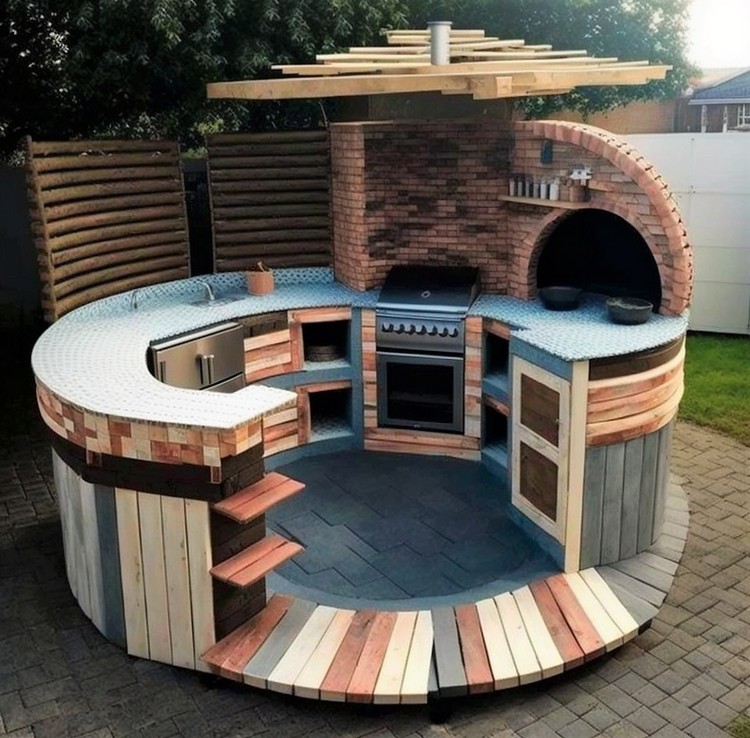 Transform your outdoor space into a culinary haven with an outdoor wooden pallet kitchen, where rustic charm meets practical functionality. Crafted from repurposed pallets, this kitchen concept embodies sustainable creativity, infusing your environment with a unique character. The weathered wood lends an inviting warmth to the space, while the clever design allows for the integration of essential elements such as countertops, shelving, and even a space for a grill or cooking area. The result is a harmonious blend of nature and practicality, inviting you to create delectable meals while surrounded by the beauty of the outdoors. Whether you're hosting gatherings or indulging in solo cooking adventures, this outdoor wooden pallet kitchen adds a touch of ingenuity and rustic elegance, elevating your outdoor living experience to new heights.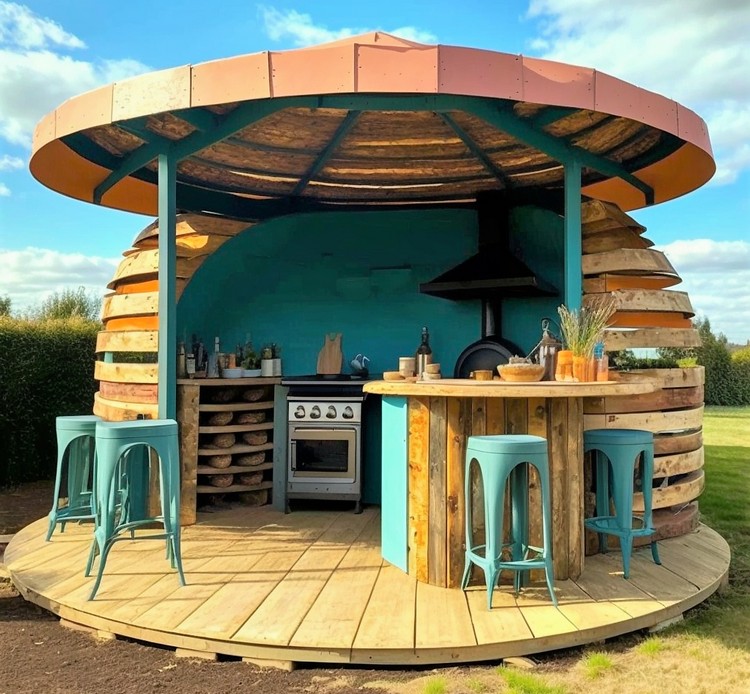 Experience the fusion of rustic charm and functional ingenuity with an outdoor wooden pallet kitchen. Crafted from repurposed pallets, this kitchen concept brings an eco-friendly twist to your outdoor culinary endeavors.
Building an outdoor kitchen with wood pallets is a fun and affordable DIY project that can help you make the most of your outdoor space. With a little creativity and some basic DIY skills, you can create a unique and functional outdoor kitchen that you'll love using for years to come.