DIY Pebbles Art Ideas For Gift and Unique Decoration
Pebbles are a great material for DIY art projects. This creative endeavor merges the natural charm of pebbles with your imagination, resulting in a decor piece that exudes both beauty and individuality. By meticulously arranging and affixing pebbles onto a canvas or object, you can craft a mesmerizing composition that reflects your personal style and creativity. The texture and colors of the pebbles add a tactile dimension, while the arrangement itself tells a unique visual story. Whether it's a tranquil nature scene, an abstract pattern, or even an inspiring message, your DIY pebbles art becomes a captivating focal point that invites contemplation and admiration. Placed on a shelf, mounted on a wall, or gracing a tabletop, this handcrafted creation brings a touch of the outdoors into your indoor environment, reminding you of the simple beauty found in nature's elements. Embrace the meditative process of crafting and the joy of showcasing your artistic spirit with this enchanting DIY pebbles art idea that adds a touch of nature's elegance to your living space.
Creating pebble art is a unique and creative way to decorate your space with a touch of nature's beauty. This art form involves arranging and gluing small, smooth pebbles onto a canvas or a substrate to form various images, designs, or even abstract patterns. The natural colors and textures of the pebbles add depth and visual interest to the artwork.
Imagine a serene pebble art scene featuring a tree made from carefully selected pebbles, its branches spreading across the canvas, and its trunk extending upwards. Beneath the tree, a riverbed comes to life with a collection of blue and gray pebbles, portraying the tranquil flow of water. Perhaps a small family of pebble birds rests on the tree branches, while a single pebble butterfly flutters nearby. The combination of these meticulously placed pebbles forms a harmonious and captivating composition.
Simple pebbles into captivating art pieces offers a delightful way to fuse nature with creativity. Imagine crafting an ocean-inspired artwork using a spectrum of smooth pebbles. Picture a serene beach scene with the shoreline depicted using a blend of light-colored pebbles, gradually transitioning to deeper hues as you move towards the center. Here, a small collection of pebbles meticulously arranged in a curving formation might represent gentle waves lapping at the shore. Larger pebbles, strategically placed, could symbolize majestic rocks emerging from the water. This textured masterpiece would not only celebrate the beauty of nature but also serve as a reminder of the tranquility found by the water's edge.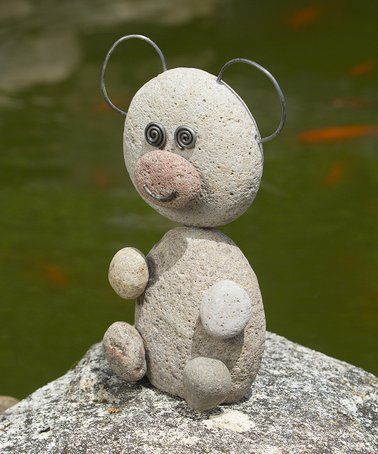 The trunk stretches upwards, its texture coming alive with the diversity of pebble shapes. Surrounding the tree, a bed of lush green moss, crafted from soft, velvety pebbles in verdant tones, spreads across the canvas. Delicate pebble birds find their place among the branches, each stone chosen thoughtfully to reflect their unique characters. Rays of sunlight filtering through the tree's canopy could be suggested using pale, shimmering pebbles strategically placed to evoke a sense of gentle illumination. This pebble art piece not only showcases the beauty of nature but also invites you to immerse yourself in the peaceful ambiance of the forest with each glance.
This innovative decor idea seamlessly merges the raw beauty of nature with contemporary design, creating a harmonious blend that appeals to both the eye and the soul. Imagine a mesmerizing wall mosaic, where carefully selected pebbles of varying shapes and colors converge to form intricate patterns, reflecting the soothing rhythm of nature's touch. Whether arranged in serene gradients, dynamic mandalas, or even depicting scenic landscapes, pebbles art brings a tactile dimension to your decor, inviting tactile exploration and visual delight. The tactile sensation of running your fingers over the smooth, cool surface of the pebbles creates a unique sensory experience, connecting you to the Earth's natural elements.
Each pebble carries its own story, shaped by the currents of time and nature. With this art form, your space will not only exude elegance but also evoke a sense of calmness and grounding, making it an ideal focal point for relaxation and contemplation. So, if you're seeking to infuse your living environment with creativity and a touch of nature's grace, consider adorning your walls with the timeless beauty of pebbles art, an embodiment of artistry inspired by the Earth itself.
This unique concept embraces the simplicity and organic elegance found in nature, bringing a sense of tranquility and harmony into your living space. Imagine a minimalist yet impactful centerpiece, where carefully curated pebbles in various shapes, sizes, and hues come together to form a visually pleasing arrangement. Whether adorning a tabletop, filling a clear vase, or accentuating a corner, pebbles art decor introduces a tactile element that engages both the eyes and the senses.
The smooth, tactile quality of the pebbles invites touch and contemplation, while their natural colors and textures add depth and character to your surroundings. Whether you opt for a monochromatic arrangement for a sleek modern look or a blend of earthy tones for a more rustic feel, pebbles art decor seamlessly complements any aesthetic. By incorporating this art form into your design scheme, you infuse your space with the essence of nature's serenity, fostering a serene ambiance that resonates with anyone seeking solace amidst the demands of modern life.
Remember, the beauty of Pebbles Art decor lies in its versatility. Feel free to mix and match ideas, colors, and textures to create a personalized and visually captivating space that resonates with your style and preferences.