25+ Unique DIY Shelf Decor Ideas for 2019
Do you know that you can use shelves to decorate your house? Yes, you can and they make great decorative items around the house. Generally, shelves are used in the kitchen or bathroom. They look great and they are extremely functional also. And the best thing is that you can use them in your kitchen, bathroom, bedroom and living room. Practically, you can use them anywhere.
However, having a DIY shelf design is perfect if you don't like to settle with something that is 'like' what you want. But something that you really like and want.
Below are some DIY shelf decor ideas.
HOW TO MAKE DIY FLOATING SHELVES
Looking for something that is functional, beautiful and consumes less space? Introducing floating wooden shelves. These shelves are ideal for narrow or small kitchens or if you do not want anything bulky in your kitchen or room. You will need wooden shelves and floating brackets to assemble this design. Click below for more details.
DIY WOOD SHELVING WALL
A great alternative to traditional kitchen cabinets and cupboards. This shelving wall is ideal if you want to add a unique look into your kitchen. You can customize the size and make it small or big. The shelving wall is spacious and can store your spice jars, baskets, bread boxes and dishes. For more, click below.
DIY WOODEN TRIANGLE SHELVES
A unique triangle shelf, perfect to decorate your bedroom and living room. Size is customizable and you can either make it yourself or have it custom made. You can use the shelf to store your things or simply to beautify your house with flowers and plants. For other details, visit below.
UPDATE** Check out this to see how we safely hung it and info on the stain used!
A great idea to use spare or reclaimed wood pallets. The project uses wood pastels that are stacked together to form a sort of shelf. The shelf is used for herb jars but you can use the idea to display other things like decoration objects, planters and photo frames. For more details, follow the link below.
Shelf Shocked
Smart storage ideas for a small bathroom and these shelves work great in your bedroom also. The design is made with wooden logs and four iron scroll brackets to fix them. It is great if you want to have floating shelves but do not like to have its usual look. For more information, click below.
Rustic Wine Rack Wall Mounted Shelf with (Beveled) Hanging Stemware Glass Holder Floating Bar Shelves
A sturdy looking shelf that is great to display your wine collection. The shelf is all made in wood and has a very natural and rustic look. You can customize the look and color and if you do not have skills in woodwork, you can have it custom made. To order it directly, visit the link below.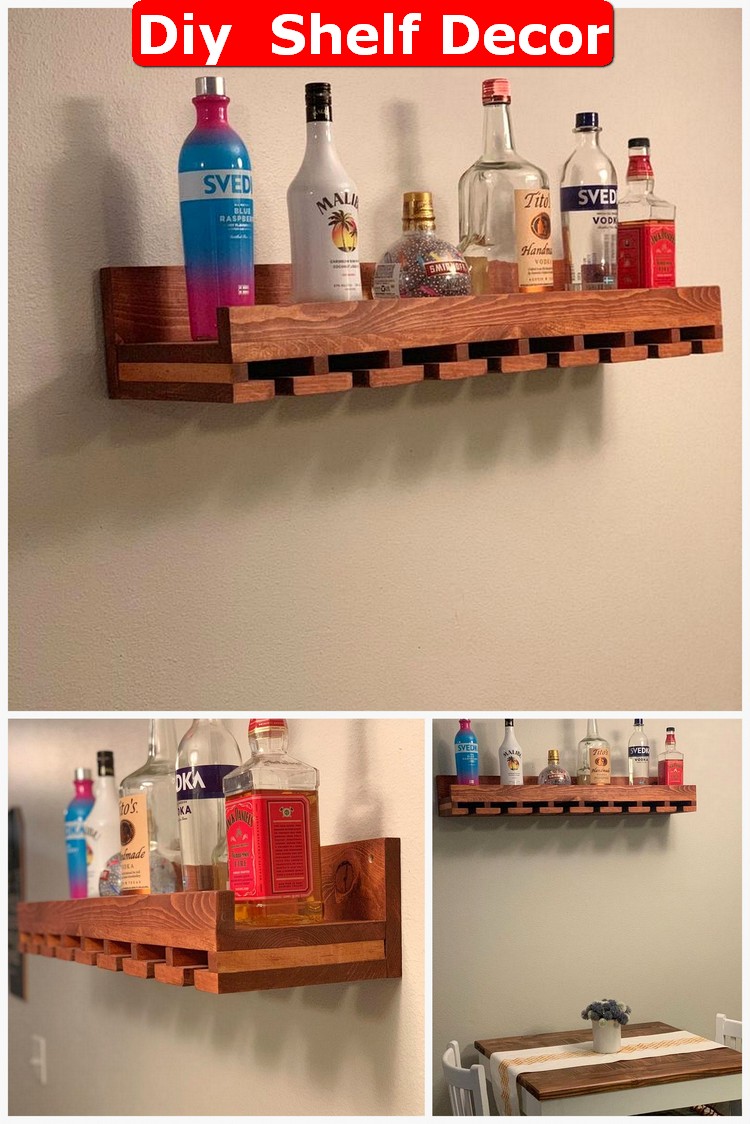 My Kitchen Makeover Featuring Live-Edge Floating Shelves
Do not want to have the traditional cabinet storage in your kitchen? Try having open shelves instead. Long wooden shelves are great to store jars, cups, plates and some plants for a lively look. They are easy to install and are absolutely functional. For more on the look, please follow the link below.
DIY Open Pipe Shelving
A unique idea to use industrial pipes. The supplies are simple and include industrial pipes, wooden logs, steel spray etc. The look is perfect to keep your books, candles and plants and you can use it anywhere in the house. Moreover, you can spray in any other color also. For more details, click below.
How to Build Your Own Wood Shelves
Instead of rods and pipes, this design uses thick yarn rope and wooden slabs to achieve the look. The rope is made sturdier with a metal handle at the top and all the three slabs are attached by drilling holes at their ends and knitting the rope through them. For other details, click below.
Corner Shelves
These corner shelves work great if you do not have much space to dedicate and want something functional and less space consuming. Utilize your room's corners with this design and lodge some pine boards with corner brackets. These shelves are functional and you can use them to store a number of things. For more, click below.
DIY Entertainment Center with Bookshelves
Need more space to store your books? This design is specifically for the living area and TV lounge as the shelves will surround your LCD. Just arrange some wooden shelves on the surrounding wall but you need to be careful that you do not overload it. For more details, click below.
Diy Details
My Breakfast Nook DIY Floating Shelves
The shelves are arranged in the corners and are painted white in color to match the color of the walls and it uses floating brackets. You can also customize it according to your surrounding walls, keep it as it is or paint it in any other color. For other details, click the link below.
Shallow Shelves
Shallow shelves are better than deep shelves and this design proves this point successfully. The project is easy to make and achieve as it uses two logs of wooden shelves that has a raised other side. You can use multiple shelves and decorate with a number of different things. For complete details, follow the link below.
Floating Display Shelves
This floating shelves design is a perfect choice for a unique DIY project. All you need is a board to support the shelves and to create the desired look and plywood shelves. You can also use chestnut wood or any other for this project. The shelves are ideal to hold several decorative pieces. For more, click below.
Reclaimed Floating Wall Display: The DIY Details
These shelves are made with reclaimed wood and metal pipes. The design is simple but modern as it does not use the usual design of arranging the shelves in a same line. They are arranged differently and this makes it interesting and functional. It is multipurpose and you can use it to store and display different things. For more details, click below.
Anthro Inspired DIY Copper Shelves
The shelves are in wood but they are wrapped in copper sheeting. Unique ideas, right? Yes it is. These shelves are great for hallways, rooms and bathrooms. You can decorate it in any way you like but having some green life around will add life and beauty to the exterior. To know more, click below.
CREATE DINING ROOM STORAGE WITH FLOATING SHELVES
Want to have all your dining plates and glasses nearby? Store everything in your dining room with these floating shelves. You can choose any size and color of the shelves but make sure that you choose strong wood to support your dishes properly. Besides, you can also use them for decoration. For more details, click below.
DIY LADDER SHELF
A unique DIY ladder shelf decor idea. Having a spare ladder? Transform it into shelves. The idea works great in your kitchen and for your backyard also. You can keep and store your dishes and some decorative items also. Moreover, you can also change the color. For more information, click the link below.
WORK SPACE REVEAL
Want to manage your workspace? Install some shelves. They are versatile and an affordable option to manage your workspace and keep everything in order. Baskets work great for storage and you can keep all your things in one place and in an easy reach. For more design details, click the link below.
MODERN INDUSTRIAL WOOD SLICE SHELF TUTORIAL
DIY Lite: Double Bathroom Storage with Easy-Build Box Shelves
DIY INDUSTRIAL PIPE SHELVES
Turning Baskets into Shelves
Industrial Pipe Shelving Unit
Full-Bodied Shelves
DIY FLOATING SHELVES
I Love Our HOME Shelf and How to Make your Own
solid wood shelves inspiring diy modular shelving projests for interior Decorating in Eco Style
DIY COUNTRY STORE KITCHEN SHELVES MORE PANTR SPACE
BATHROOM STORAGE SOLUTIONS – DIY DOOR SHELF

DIY Floating Shelves
wooden shelf, kitchen shelf, wood shelf, display shelf, coffee bar shelf, wooden kitchen shelf,
Painter's Ladder Shelf

d.i.y. modular shelves
DIY Industrial Pipe Shelf Entertainment Center
WINE RACK – DIY
Three Tier Modern Farmhouse Shelf with Industrial-Style Towel Bar