Barrel Metal Drum Project Ideas
Unleash your creativity with barrel metal drum projects that breathe new life into discarded materials. These repurposed metal barrels offer a wealth of possibilities, transforming into functional and artistic pieces that make a statement. Consider fashioning a stylish outdoor seating ensemble by cutting a barrel into halves and adding cushioning—a unique blend of industrial aesthetics and comfort. Alternatively, convert a barrel into a rustic storage solution, offering ample space for tools, gardening equipment, or even as a quirky alternative to traditional cabinets. For the artistic at heart, barrel drums can be intricately painted, turning them into eye-catching pieces of outdoor art. Imagine a vibrant rain barrel collecting water sustainably, adorned with intricate designs that make it a visual delight. From coffee tables to planters, fire pits to decorative lighting, barrel metal drum projects encapsulate innovation, sustainability, and a touch of industrial charm—a testament to the beauty of upcycled design.
Elevate your interior and exterior spaces with the industrial chic charm of barrel metal drum furniture projects. These repurposed treasures offer a blend of rugged aesthetics and functionality that's sure to captivate. Picture a set of barrel stools topped with reclaimed wood seats, perfect for adding a touch of rustic elegance to your kitchen counter or bar area. For lounging areas, transform a barrel into a cozy chair with plush cushions, providing a comfortable retreat with an urban edge. Enhance your outdoor gatherings with a barrel cooler, equipped with a hinged lid for easy access to chilled beverages during gatherings.
For those seeking storage solutions, consider a barrel cabinet, complete with shelves for stashing items while showcasing the barrel's unique texture. On sunlit patios, a barrel coffee table can become a conversation piece, offering both a surface for relaxation and a storied past to discuss. Whether it's a barrel wine rack, side table, or even a converted barrel sink, these projects harmoniously combine utilitarian function and artistic flair, injecting a dose of character into any space. Embrace the allure of barrel metal drum furniture as it fuses sustainability, creativity, and industrial aesthetics into pieces that tell a story while providing practicality.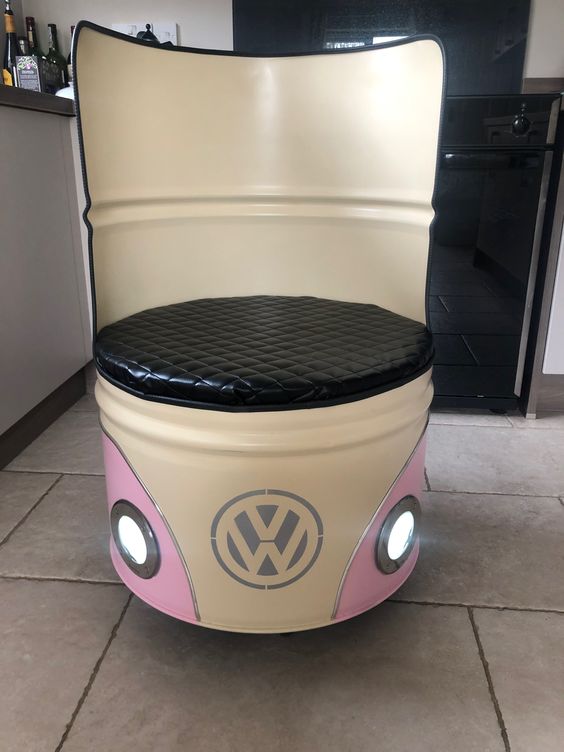 These repurposed industrial barrels effortlessly transform into captivating furniture pieces that redefine both style and sustainability. Picture a luxuriously cushioned barrel ottoman, inviting relaxation with its rugged yet comfortable demeanor. For outdoor spaces, a barrel side table can serve as a quaint repository for drinks and books, exuding an urban-cool vibe that sparks conversations.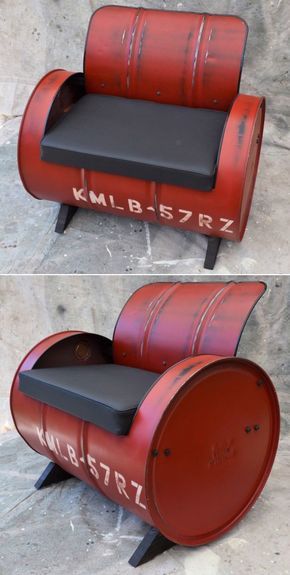 To infuse your living space with a dash of eco-friendly elegance, envision a barrel coffee table, its weathered patina adding a touch of authenticity to your decor. Embrace your inner mixologist with a barrel bar cart, replete with storage for bottles and glassware, perfect for entertaining guests in style. For the artistic souls, barrel cabinets present a canvas for your creative visions, as you paint, stain, or distress the metal to match your aesthetic.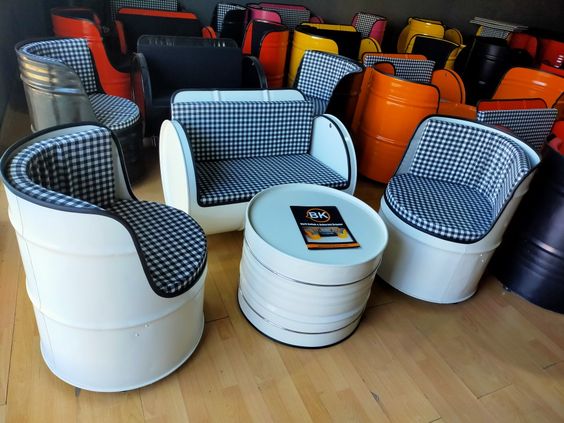 Whether it's a rustic barrel wine rack, a contemporary barrel bookshelf, or even a barrel chandelier that adds an industrial edge to your dining room, these projects stand as testament to ingenuity and craftsmanship. Barrel metal drum furniture marries functionality with an edgy repurposed spirit, harmonizing your living spaces with a unique blend of character and purpose.
interior design with the captivating allure of barrel metal drum sinks, a truly distinctive and eco-conscious addition to your space. These repurposed barrels seamlessly merge functionality with industrial aesthetics, creating a stunning focal point that sparks conversation. Imagine a repurposed barrel transformed into a striking bathroom vanity, complete with a hammered metal sink that exudes a sense of raw elegance. The juxtaposition of the barrel's weathered texture against the smooth basin creates a visually arresting contrast, adding depth to your décor.
In outdoor or rustic kitchen settings, envision a barrel sink with a handcrafted copper or stainless steel basin that effortlessly blends into the natural surroundings. The barrel's history and character infuse a sense of authenticity into your space, while the craftsmanship required to assemble the sink showcases your dedication to sustainable design.
Old metal drums or barrels can be repurposed into unique and eye-catching planters and garden decor with a bit of creativity and some basic tools.
Introduce an enchanting touch of industrial elegance to your outdoor sanctuary with barrel metal drum planters and garden decor. These repurposed barrels offer a unique canvas for nurturing plant life while adding a touch of rustic charm to your garden oasis. Envision cascading flowers spilling from a vertically positioned barrel planter, creating a captivating focal point against a wall or fence. The barrel's weathered patina and rugged texture provide an ideal backdrop that complements the vibrancy of your plants.
For larger spaces, picture a cluster of barrel planters in varying sizes, each boasting its own verdant arrangement. The juxtaposition of metal and greenery creates an eye-catching harmony that breathes life into your outdoor environment. You can even transform a barrel into a self-contained herb garden, providing fresh culinary delights right at your doorstep.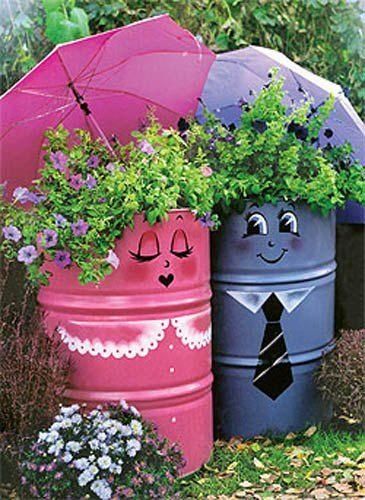 The creative process involves drilling drainage holes, ensuring proper airflow, and selecting suitable plants for the barrel's dimensions. Personalize your barrel planters with touches like decorative stenciling, distressed finishes, or intricate designs, turning each planter into a distinctive piece of art.Whether you choose to display them as standalone accents or integrate them seamlessly into your garden landscape, barrel metal drum planters and garden decor radiate a unique blend of innovation, sustainability, and natural beauty that encapsulates the essence of your outdoor haven